March 08, 2012
Be a Part of the Presidential Search: Open Forums Announced; Website Launched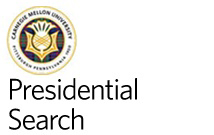 Several open forums for the Carnegie Mellon community to provide input to the search for a successor to President Jared L. Cohon have been scheduled for the week of March 26. 
The open forums give students, faculty, staff and alumni an opportunity to provide their opinions about the future direction and leadership of Carnegie Mellon. Input from the university community will help guide the search committee.
The following is the open forum schedule:
Students:
4:30 – 5:30 p.m., Tuesday, March 27, Rangos I, University Center
Staff:
Noon – 1 p.m., Wednesday, March 28, Connan Room, University Center
Faculty:
4:30 – 5:30 p.m., Thursday, March 29, McConomy Auditorium, University Center
Alumni:
Friday, April 20 (during Spring Carnival), Connan Room, University Center (time will be announced)
Other opportunities for alumni input as well as for those individuals at non-Pittsburgh locations will be announced.
The open forum schedule is included in a new presidential search website that was launched today. The website, at 
http://www.cmu.edu/presidential-search/
, will serve as the public hub of information for the presidential search. The site contains a general timeline for the search, information about the presidential search committee membership, a comment form where you can provide input and a nomination section where you can nominate individuals for consideration. You also can submit questions, which will be answered in the FAQ section. Information updates will be posted periodically, so we encourage you to visit the site throughout the search timeframe.