March 29, 2012
Staff Council Seeks Nominations for Division Reps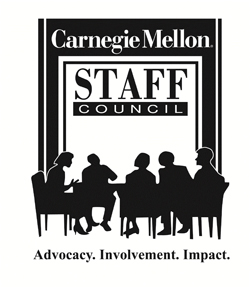 Nominations for Staff Council Divisional Representatives are now being accepted through April 6. Each division should have two representatives and the list of divisions is available on the Staff Council website. Current staff council reps are listed on the site as well.

To nominate an individual for a two-year term beginning this August, submit his/her name online. Nominees can accept or decline their nomination April 7 through April 13.
Staff Council serves as the voice for staff at Carnegie Mellon through policy advocacy and community involvement, providing an organization that enables staff to realize their full potential and impact their quality of life. The chief purpose of Staff Council is to examine matters related to all staff, and to formulate recommendations to the university administration.
Take Our Daughters & Sons to Work Day Registration Begins April 5

Registration for this year's Take Our Daughters and Sons to Work Day (Thursday, April 26), sponsored by Staff Council, runs April 5-20. The event is for girls and boys between the ages of 9 and 15. "Building Opportunity" is this year's theme and the format has been updated. 

Following the lunch program, sessions will be held at 1:15 and 2:15 p.m.  For the first session, students can choose a "Mind" or "Body" session, featuring "MadScience," a Pittsburgh company specializing in fun educational science programs, and activities with the Athletics Department staff. The second session is a choice of "College Stations" with presenters from CMU's various academic programs. All sessions take place in the University Center.
For more information and to register your child, go to http://www.andrew.cmu.edu/org/todtw beginning April 5.  Contact Chris Nolin at cnolin@andrew.cmu.edu with questions.

If you'd like to volunteer for the event — for even one hour — please contact Gloria Gruber at ggruber@andrew.cmu.edu. Volunteers are needed for the lunch program and session guides.
Grievance Committee May Help Resolve Work-Related Issues
Unable to resolve a work-related issue? The Staff Council Grievance Committee may be able to help. The committee offers information about the grievance process, supportive listening, non-judgmental feedback, confidentiality and referrals to university resources. For more information and a list of committee members, go to the Grievance Committee website.  
Books Purchased in Memory of 37 Staff Members
Staff Council has purchased 10 books in memory of 37 CMU staff members who have died since 2002. Each book in Hunt Library is inscribed with the year and names of individuals who passed during that year. The late staff members are:

2002: Dennis Kierzkowski

2003: Alan Christie, Maxwell Connan, Suresh Konda, Annaswamy Gopal, Barbara Lazarus, George Gross

2004: Kenneth Meyer, Quinn Peyton, David Stanko

2005: Muriel Fleishman, Stanley Fields

2006: Carter Dykes, David Deerfield, Jeffrey Pencosky, Eric Biefeld, Bonnie Dalmasse

2007: Gloria Geib, Clarence Casteel, Delee Cook

2008: Paul Roth, Anne Humphreys

2009: Roger Bate, Yvonne Francescon, David Joubert, Eugene Rossi, Barbara Sandling, Ann Speelman

2010: David Archer, Yasir Khalifa, Patricia Kleyle, Watts Humphrey, Irene Brychcin

2011: William Marshall, Youcheng Jiang, Margaret Sandoe, Cheryl Leon