March 22, 2012
CMU Cited for Community Service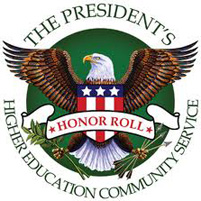 For the fifth consecutive year, Carnegie Mellon has been named to the President's Higher Education Community Service Honor Roll. The selection by the Corporation for National and Community Service (CNCS) and the U.S. Department of Education recognizes CMU's commitment to community service and service learning.

"At Carnegie Mellon, we are enthusiastic about sharing talents, skills and energy to positively impact the local and global community," said Judith Hallinen, assistant vice provost for Educational Outreach and director of the Leonard Gelfand Center for Service Learning and Outreach.

"Students, faculty and staff implement more than 100 distinct ongoing or short-term service learning and outreach activities that make a positive impact on the community in southwestern Pennsylvania, the nation and the world," she said.
Hallinen said nearly 5,000 students spent more than 143,000 hours engaged in community service in 2010-2011.

"It is very difficult to make time to spend a significant portion of my Saturday tutoring elementary school students," said Travis Mandel, a computer science major. "However, I consistently made it a top priority, because I know if we stick with it these kids' lives could really be changed for the better."

In her report to the CNCS, Hallinen noted the work of the Center for Economic Development at the Heinz College, which has contributed to the economic, community and technology development in the region; the Remaking Cities Institute, a fifth-year architecture urban design studio, which has positively impacted local citizens and community groups; more than 9,600 hours of professional development programs for K-12 teachers; and 10,000 K-12 students who attended workshops and activities on campus or in the community.
She also highlighted three specific projects, IMPAQT, Growing Theater and Alternative Break.

IMPAQT: Initiating Meaningful Pittsburgh and Qatar Ties provides a campus exchange opportunity for CMU students from Doha, Qatar, and Pittsburgh.  Students visit their sister campus to promote cross-cultural understanding, to enhance student interactions and to build strong connections within the global community.  For the last two years in Pittsburgh, Middle Eastern students also spent time visiting area high schools to learn about K-12 education in the U.S. and to provide insight to the high school students of what education is like in the Middle East.  

Growing Theater, a full-year course taught by Anne Mundel, connects CMU mentors with at-risk youth by collaborating on a theater production. CMU students earn credit by sharing their skills with Propel School students, guiding them through the development of a play over a seven-month period.  The elementary and middle school students gain confidence in taking artistic risks, thinking "outside of the box," reading and writing, and public speaking.

Alternative Break programs work with national and international communities by immersing students in a purposeful service-learning experience. The trips give participants the chance to live, share and volunteer with other students while working toward positive change and establishing life-long relationships.  While the program often involves travel to another location, last year 20 students orchestrated "Alternative Break in Pittsburgh," where they volunteered at the Jubilee Soup Kitchen, Storehouse for Teachers, a community Food Bank, Habitat for Humanity, Gilda's Club and Ronald McDonald House.

"Through service, these institutions are creating the next generation of leaders by challenging students to tackle tough issues and create positive impacts in the community," said Robert Velasco, acting CEO of CNCS.

"Preparing students to participate in our democracy and providing them with opportunities to take on local and global issues in their course work are as central to the mission of education as boosting college completion and closing the achievement gap," said Eduardo Ochoa, the U.S. Department of Education's assistant secretary for postsecondary education.

CMU is among 642 schools on the community service honor roll.