February 02, 2012
Astronaut Discusses the Science of Space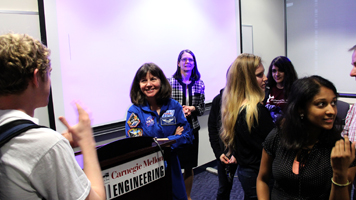 NASA Astronaut Catherine "Cady" Coleman recently discussed her career and the importance of engineering and science education to members of Carnegie Mellon's new student chapter of the
American Institute of Aeronautics and Astronautics (AIAA)
.
Coleman has logged more than 4,330 hours in space aboard the Space Shuttle Columbia and the International Space Station.
"This [was] a wonderful opportunity for our students to see and meet such a distinguished leader in her field," said Nadine Aubry, head of Carnegie Mellon's Mechanical Engineering Department and a fellow of the AIAA for her outstanding work in the field of aerospace through her pioneering contributions in fluid dynamics.
AIAA student leaders Jayon Wang, a mechanical engineering junior from Bethesda, Md., and Emerson Silva, a mechanical engineering sophomore from Curitiba, Brazil, introduced the astronaut to more than 30 members of the new AIAA student chapter.
"We are very honored to meet such a prestigious aerospace leader who has traversed the world and beyond as a pioneer for engineers and scientists alike," said Wang. "Her accomplishments are something we all wish to emulate."
Coleman, a keynote speaker this month for the annual banquet of the Engineering Society of Western Pennsylvania (ESWP), received a bachelor of science degree in chemistry from the Massachusetts Institute of Technology and a Ph.D. degree in polymer science and engineering from the University of Massachusetts.
She also represented the astronaut office on the Tile Repair Team for NASA's return to flight after the Columbia accident.