March 02, 2012
Future Tenant
Art Space Celebrates Decade of Pushing Boundaries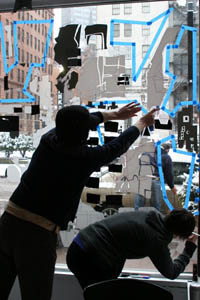 Art is about experimenting and testing limits.
Future Tenant, a downtown Pittsburgh art space, keeps that in mind as an arts management training laboratory managed completely by students. It's been that way for a decade.
Back in 2002, the art gallery was a vacant storefront waiting for a "future tenant" when Kevin McMahon, president of the Pittsburgh Cultural Trust, envisioned revitalizing the Cultural District. He reached out to Jerry Coltin, faculty adviser of the Master of Arts Management (MAM) program in the Heinz College,
and Dan Martin, professor and interim dean of the College of Fine Arts.
"It is a unique opportunity, because it gives students an opportunity to manage at a high-strategic level in a structure that closely imitates the [nonprofit organization] arts environment, while providing a fiscal safety net," Coltin said. "I do not believe there are any practicum opportunities that can match Future Tenant for the experience of managing a staff, board, budget and programming."
The space is now one of the most vibrant art spaces downtown. And beyond that, a laboratory for creative minds. Ownership as well as an open space, grants MAM students the freedom to carry out great ideas that seem impossible elsewhere.
"The job at Future Tenant offers you the most autonomy, the ability to self-motivate, be hands-on for the things you want to be doing rather than just working underneath people," said Erin Gough, a co-director for the current academic year.
Future Tenant's arts managers have exploited the open space in every possible way for visual and performing arts.
Even the bathroom and windows are utilized, serving as interesting venues for site-specific installations. The Trespass program, which runs twice a year, allows artists to spend a week at Future Tenant developing, rehearsing and performing their original work at no cost.
For the past 10 years, Future Tenant has presented work from more than 100 emerging artists and performers. Core programs include the guest curator program, performance events, a performance residency series, and several partnerships with local schools and colleges.
This experience provides the arts managers with a collaborative environment, working not only with fellow students, but artists, curators, local arts and culture organizations, and the community.
"The most valuable thing I found was the collaborative process," said Kate Hansen, who served as a co-director from 2009 to 2010. "I met a lot of really interesting curators, artists, performers, etc. through my work at the space. As someone focused on the visual arts for most of my life, having the experience working with performing/theater artists and managers taught me a lot about the performative arts and both their artistic and technical function."
As Future Tenant enters its 10th year, innovation and collaboration continue to be the driving force of the arts managers running the organization.
For the upcoming annual fundraiser, the theme will be focused on the organization's 10th birthday.
"We've tried to grow the fundraiser as we've grown as an organization, and we're hoping this is the most successful event yet," said Katy Peace, the other co-director for the current year.
Future Tenant is partnering with Bakery Square and The School of Art to hold the event in Bakery Square's grand first floor. Master's of Fine Arts students will exhibit their creative art works. The move to a larger venue allows artists exposure to a larger and more varied audience.
"There's a general trend that things aren't happening because of the [size of Future Tenant's] space," said Lauren Goshinski, marketing and communications manager for the School of Art. "People aren't looking for gallery resources anymore. They are looking for opportunities to come together, raise each other's visibility, and have a really unique show."
The school is contemplating what Future Tenant 2.0 will look like for the next decade. Part of it will be more collaboration in creative ways between the Future Tenant directors and the school, Goshinski said.
Another part is community recognition.
"I hope that more people understand what Future Tenant is, from the perspective of the general public," Hansen said.
To make it happen, the current directors are working hard on building momentum and laying the groundwork for the organization.
"We have established a lot of organizational infrastructure that will help future directors take over more seamlessly and not have to reinvent the wheel, so to speak," Peace said.
Coltin said that the management model for the art space would change in the next academic year. Instead of two co-directors, Future Tenant will have an executive director with two associate directors.
"We are committed to that learning process and the evolution of the space in realization of Future Tenant's mission to educate new managers, give exhibition and performance opportunities to emerging artists and to initiate new audiences to view the work," he said.
Artists work to install pieces at Future Tenant. Because of space constraints, every available surface is used for artwork, including windows and the bathroom.
Future Tenant Birthday Party

7 p.m., Friday, March 30
1st floor of Google's building in Bakery Square, 6425 Penn Ave., Pittsburgh
Tickets: $15 for students and $25 for the public during a presale at https://www.brownpapertickets.com/event/228493
$20 for students and $30 for the public at the door
For more information, visit
www.futuretenant.org/
.