March 02, 2012
Energy, Economics, Commerce
VIP Visitors Discuss Global Affairs on Campus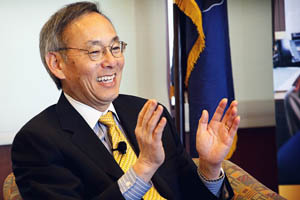 Two U.S. cabinet members and the president of the World Bank visited campus in February.

U.S. Secretary of Energy Steven Chu met with students at an event hosted by the Tepper Energy Club. Discussion topics with Chu, a Nobel laureate in physics, ranged from smart grid technologies to the future of the nuclear industry post-Fukushima.

"Fukushima reminded us that you can't let your guard down," Chu said. "And it doesn't matter where around the world, if you have a nuclear accident, it affects everyone."

Chu is a return visitor to the CMU community, having lectured at Carnegie Mellon Qatar in 2010.
Robert Zoellick, the 11th president of the World Bank Group, was part of a session sponsored by the Center for International Relations and Politics, the Thomas M. Kerr, Jr. Prelaw Program and the Global Studies Major.

"Most people think what 'banks' are about is lending money," Zoellick said. "But in reality, when the World Bank Group is most effective, money is only one component."
Zoellick, who has led the World Bank since 2007, announced he will step down as president in June.
Commerce Secretary and former CEO John Bryson visited Pittsburgh to tour Aquion Energy, a CMU spin-off and battery technology company. He also led a discussion at CMU with business leaders, along with CMU Vice President of Research Rick McCullough and Pittsburgh Mayor Luke Ravenstahl on business growth, innovation, and public-private partnerships.

Pictured above is U.S. Secretary of Energy Steven Chu.