March 02, 2012
City Recognizes School of Music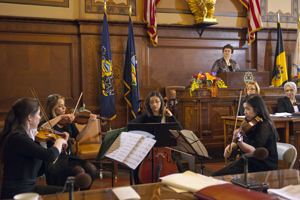 Pittsburgh's City Council celebrated the School of Music with a proclamation declaring Feb. 28, 2012, as "The Carnegie Mellon School of Music Day." The event recognized the 100th anniversary of the School of Music (
http://music.cmu.edu/centennial/
).
The proclamation noted the school's legacy of education and performance.
For example in Pittsburgh, some 22 members of the Pittsburgh Symphony Orchestra are Carnegie Mellon graduates and faculty members, as are members of the Pittsburgh Opera, the Opera Theatre of Pittsburgh, the Bach Choir of Pittsburgh and the Mendelssohn Choir of Pittsburgh. The school's internationally recognized programs in eurhythmics and solfege also are celebrated.
The School of Music's Starling Quartet, an honors string quartet founded in 2002, performed at the proclamation celebration.