June 15, 2012
Wilson Advises Graduates To Live for the Moment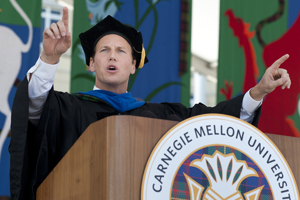 Patrick Wilson's (A'95) advice to this year's graduating class didn't focus on the future, but rather, their memories of today.

"All too often you forget the things you should remember and remember things that you should've forgotten. In a sea of milestones - huge life-altering events - sometimes it's the random details, the small moments that just pass in a flash that for some reason stick with you forever," Wilson said during his keynote address at Carnegie Mellon's 115th Commencement.

With that in mind, the School of Drama graduate told the students to laugh and live in the moment.

"The big stuff will happen whether you like it or not, whether you're ready, willing or able. What I want you to concentrate about is today," he said. "Today is not about a job that awaits you or where you will be going, where you will move, how you will struggle or why you will succeed. Today is you. Your friends. Your family. Don't worry about what will happen. Concentrate on what is happening. Try to do that a lot in life. Just be in the moment. Whether it's breaking a bottle, breaking a heart, getting hired or fired. Find humility in the hiring, and humor in the firing. They're just moments."

On one of the sunniest days in the past few years for commencement, he said that Carnegie Mellon is the "best acting school in the country." Wilson also delivered the keynote for the School of Drama diploma ceremony.

"I am honored. I am humbled. I'm scared as hell to be here. Honored because there is no other school in the country like Carnegie Mellon University. No other school that is continually and profoundly changing the world with its breakthroughs in science, technology and art. Humbled because I'm in the midst of masters in engineering, architecture, mathematics, literature. Computer analysis, fine arts, bagpiping, buggy building," he said.

Wilson is a widely talented and successful performer. His work as a stage, film and television actor, as well as a singer-songwriter, has brought him critical acclaim, as well as numerous awards and nominations.

Wilson was most recently seen alongside actress Charlize Theron in Paramount Pictures' "Young Adult" and also starred in the CBS drama "A Gifted Man." He received Emmy and Golden Globe nominations for Best Supporting Actor for his work on the HBO miniseries "Angels in America." Wilson has appeared in numerous feature films including "Little Children," starring opposite Kate Winslet, "The Ledge" and "The A Team."

He described drinking scotch with Harrison Ford on the set of "Morning Glory," and moments from "Watchmen."

"I remember the first time I put on my Night Owl costume on the set of 'Watchmen,'" he said. "It wasn't painted yet, and I really looked like Batman. I laughed at myself in the mirror. I looked ridiculous, and I loved it."

He is currently at work filming "The Conjuring," scheduled for release in 2013.

A trustee of the university since 2009, Wilson serves on its Education Affairs and Enrollment Committee.

He and his wife, actress Dagmara Dominczyk (A'98), have deep roots at Carnegie Mellon and have remained generously supportive and active with the university in many ways, including their participation in student workshops.

He described meeting her when she was a freshman and he was a senior, and then proposing to her several years later. It was a moment he will always remember.

"I got down on one knee in the stoop of that freshman's Brooklyn apartment and asked her to marry me. She looked at me, and she said, 'No!  I'm wearing sweatpants.'"

The couple has been married seven years.

"We all have a lifetime of memories that shape our existence. No matter how young or old we are, they all carry the same weight. My life, like yours, is just a collection of small moments in an ocean of larger experiences. It's the odds and ends, the bits and pieces that we take away."

In his speech, keynote speaker Patrick Wilson (A'95) said, "there is no other school in the country like Carnegie Mellon University."

Faculty Marshal Mark Stehlik leads the platform group with the aid of the Carnegie mace. Stehlik won the Robert E. Doherty Award for Sustained Contributions to Excellence in Education earlier this year.
Commencement on YouTube
Watch Patrick Wilson's address, student speaker Caroline Kessler's remarks and President Jared L. Cohon's charge to the graduates on Carnegie Mellon's YouTube channel at www.youtube.com/playlist?list=PL531DA16D9914330E&feature=plcp.