June 15, 2012
Experimental Art Ali Momeni Transitioned from Musician to Sculptor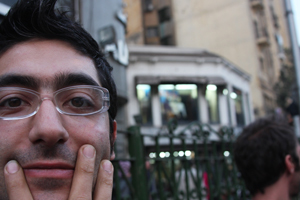 Artist Ali Momeni does not chisel stone nor weld metal. But his unique work shares many of the same inspirations as other artists: nature, science, travel and music.
The interdisciplinary artist joined CMU this spring, and his journey to get here took a winding road.
His parents emigrated from Iran when he was 12, and Momeni grew up outside of Philadelphia before entering college as a pre-med student.
"Being pre-med was kind of a recipe that I think a lot of the students at CMU can relate to. It was basically a classic first-generation immigrant [path]."
At Swarthmore College he double majored in physics and music. The music won out, and Momeni earned a Ph.D. in music composition, improvisation and performance with computers from University of California, Berkeley.
His interest in sound art proved to be his gateway into visual art. What started as building musical instruments as part of his work grew into building musical sculptures - some the size of a building - no longer intended for the stage.
"It went more in the direction of sculpture and installation and from that I found myself in the contemporary art world as opposed to contemporary
music," Momeni said.
Music to Sculpture
After a stint in Paris, Momeni joined the University of Minnesota's Department of Art to help develop a new program called "Collaborative Arts." There, he was an assistant professor in Experimental and Media Arts before finding his way back to Pennsylvania.
He was attracted to CMU and his studio in Doherty Hall because of the school's strengths in technology, robotics and digital fabrication.  
"The department here was prepared to make a leap in what they considered sculpture. My three colleagues in the sculpture area here are more traditional sculptors; they work with metals and clay and environmental art, so they were ready to bring someone in who is going to bring this kind of gadgetry to the sculpture area and also work with the digital fabrication scene," Momeni said.
Momeni's first two courses worked in both areas. "Digital Fabrication for the Arts" introduced a diverse mix of students to fabrication techniques using computer and numerically controlled machines not commonly found in art classes.
Momeni also taught "The Animated Theater," a class in which students studied miniatures and worked with small-scale electronics, motors, servers and actuators to create a tiny theater activated by movement and light. Momeni showed students how to work with micro-controllers and create a large-scale choreographed environment.
Bees and Bugs
When he is not teaching, Momeni has many personal projects, a number of which focus on nature.
His next work will study the interaction between robots and animals by placing a bee-like robot into a colonized hive to observe how it communicates with the bees. The project is called "If lions could speak we wouldn't understand them," after the famous Wittgenstein quote.
Momeni said it explores "a really interesting area where you're communicating in a language that you don't really understand yourself but the response tells you what the language means."
He also hopes to bring a project to the U.S. that he's created with materials illegal in the country: leaf cutter ants. After creating a unique foraging area for the ants, Momeni allows them to make poetic choices about what they eat, such as rose petals versus an old world atlas.
This fall Momeni will teach classes on soft sculpture and building hybrid instruments. He also wants to continue to work with students and faculty from other disciplines.
"[There is] an open invitation to anyone who is interested in the arts, has their heart or skills somewhere else but sees the connection in some way. That's the area I function in," Momeni said.
Artist Ali Momeni sculpts with gadgetry and digital fabrication in mind.