June 15, 2012
Intel International Science Fair Comes to Pittsburgh, CMU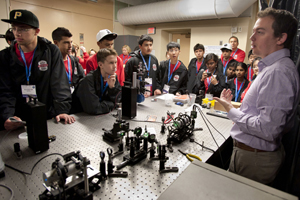 The pipeline for new students can begin pretty early.

Carnegie Mellon got a head start with some of the best and brightest high school students at the Intel International Science and Engineering Fair, the largest pre-college science competition in the world, where more than 1,500 budding scientists and engineers from around the world displayed their research at the David Lawrence Convention center downtown. They competed for more than $3 million in awards.

"There were so many opportunities for Carnegie Mellon to be involved, and I think we really took advantage of all of them," said Judy Hallinen, assistant vice provost for educational outreach and director of the Leonard Gelfand Center for Service Learning and Outreach. Hallinen was chair of the Pittsburgh Local Arrangements Committee, which included Terry Jacobsen, assistant director of the Hunt Institute for Botanical Documentation.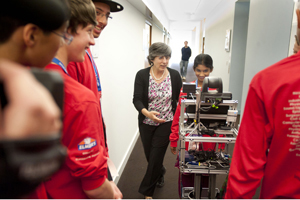 "Carnegie Mellon was involved in every aspect where we could be involved. It was great to see how people from across campus took the time to share their expertise during a very busy week during the academic year," Hallinen said.

Dan Siewiorek, acting director of the Quality of Life Technologies Center (QoLT), was one of 45 judges from Carnegie Mellon. Siewiorek has served as a judge for the regional competition for the past 40 years and for the international competition in 1989, the last time Pittsburgh hosted the event. For him, the annual event is a family affair. Both of his daughters went to the international in separate years.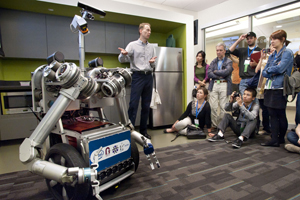 "Competition was really fierce. It's amazing to see what the students do and see their out-of-the-box thinking and how creative they are," said Siewiorek, who chaired the computer science division with a partner. He said many of this year's projects were practical solutions, such as the best in the category, which looked at Google-like searches on tweets and short messages. "With some of these ideas you could go off and start a company."

Siewiorek said one of the Pittsburgh competitors will be an intern at the QoLT this summer, but he hopes she's not the only one with sights set on CMU.

"These are fabulous students, and you'd really like to get them to be students here," he said.

Three "Climate and Energy Decision Making Awards" were sponsored by the Leonard Gelfand Center for Service Learning and Outreach. The awards recognized students for proposing technologies, strategies and approaches in the area of sustainable energy systems. Arne Joi Nipales and Jacquel Rivers of Barboquicari High School in Sell, Ariz., received $2,500 for their project on a solar heater for rural unheated homes off the grid. Assiya Hussainova from the Specialized School for Gifted Children in Daryn, Karagandy, Kazakhstan, received $1,500 for her project, in which she designed and created small wind-power engines for low-speed winds based on Magnus Effect. Wayne Walter Vigil Jr. of Grants High School in Grants, N.M., received $1,000 for his project on electric algae proliferation. Research scientist Iris Grossmann and graduate students Frauke Hoss and Paul van der Boor of CMU's Climate and Energy Decision Making Center selected the winners.

"I found that the projects were even more exciting than I had expected. I was especially intrigued and inspired to see how motivated these students were to contribute to their communities," Grossmann said.  

In addition to the nearly four dozen faculty and staff who served as judges about a dozen students worked as interpreters and assisted with educational outreach activities.

Deborah Lange, executive director of the Steinbrenner Institute for Environmental Education and Research, said the students were really impressive. "It makes me feel good that there are kids that are going to represent our profession well and they're going to carry on, but also that they are kids, and they have a sense of wonderment in the world."

In the environmental management category Lange said she saw ways to desalinate and purify drinking water, to remediate oil spills using kudzu and to make paper out of grass, weeds and dandelions. Some of the students had support from institutions such as the National Institutes of Health, the Smithsonian or research universities, while others were working in basements or school laboratories.

"Some of them had to be more resourceful in obtaining their data; I found those projects to be most clever," she said.

Jonathan Malen, an assistant professor of mechanical engineering, served as a judge at the fair. He said some of the projects were unbelievable.

"It made me sort of question where I was at their age," he said. "I'm very impressed, and I hope that involvement with Carnegie Mellon and having this fair in Pittsburgh somehow brings this talented group of students to Carnegie Mellon as undergraduates and graduates. I think our participation in the event actually helps."

Malen also provided a research lab tour for middle school students from around the world who were in town to see the event. He was just one of the faculty members from departments such as Mathematical Sciences, Physics, Mechanical Engineering, Materials Science and Engineering, the QoLT, and the CORAL (Cooperate, Observe, Reason and Learn) robotics lab who showcased groundbreaking research and cutting-edge technology as part of tours for high school competitors and international journalists in town for the competition.

More than 60 journalists who were in town to cover the event were invited by Intel to see Intel/CMU research projects on campus. The projects included the Home Exploring Robot Butler (HERB), developed jointly by Intel and the QoLT; Immersive Shopping, which allows shoppers to not only return to a store but share their experience with family, friends and on social networking websites; and the Data Center Observatory, which is an experiment in cloud computing that started before the term "cloud computing" was coined.
Photos from top: Jonathan Malen, an assistant professor of mechanical engineering, served as a judge and led a research lab tour for middle school students from several countries. Broadcom sponsored their trips to Pittsburgh as a way to promote interest in the fair when they are older.
Manuela Veloso discusses COBOT with middle school students. Veloso was one of many faculty who spent time volunteering during the fair.

Michael Vande Weghe, a senior research engineer at the Robotics Institute, shows the Home Exploring Robot Butler (HERB) to a group of international journalists in town for the Science Fair.