June 15, 2012
Students Gain Medical Experience in Honduras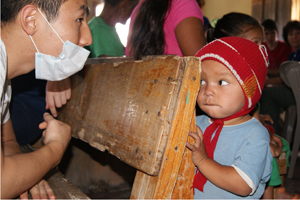 College students taking trips to the Caribbean is nothing unusual. But instead of packing suntan lotion and bathing suits, Carnegie Mellon students took 19 suitcases full of medical supplies and medications to treat allergies, colds and parasite infections to treat hundreds of patients.
During this alternative spring break, orchestrated by the Carnegie Mellon chapter of Global Medical Brigades (GMB), students conducted a three-day mobile clinic in Pajarillos, an under-resourced community in rural Honduras. All told, the 19 students - most of whom are pre-med - saw nearly 600 patients.
"Working with Global Medical Brigades has taught me so much about what makes a good doctor beyond knowing the science behind diseases," said Wendy Li, a senior biological sciences major and co-president of the CMU chapter of GMB. "You work so hard at CMU learning the science. Going to Honduras and interacting with patients reminds you of why you are working so hard. It's very rewarding."
The CMU students worked alongside four physicians, one dentist, and one pharmacist at the mobile clinic, which they set up in a church and nearby buildings. Patients made their way through the mobile clinics' various stations, starting with triage, where students took vitals and logged patient symptoms. Patients then saw the doctor while students had the opportunity to observe.
"The doctors really went out of their way to teach us their thought processes in diagnosing the patients. They were amazing," said Justine Record, a 2012 biological sciences graduate and former co-president of the CMU GMB.
Patients finished their visit to the mobile clinic with a trip to the pharmacy staffed by students and a pharmacist. There also was a dentist on hand to perform cleanings, treat cavities and extract teeth if needed. The CMU students gave every patient a toothbrush, toothpaste and dental floss - in addition to vitamins and an anti-parasitic pill - that they had collected back home mainly through donations from local hospitals and their fellow CMU students.
The CMU brigaders also raised $60,000 worth of medications from organizations, such as Brother's Brother and hospitals in the Pittsburgh area. They secured donations of other supplies from Global Links, Allegheny General Hospital, the University of Pittsburgh Medical Center and Quality Inn, which gave them soaps and shampoos. As part of their efforts, students even stood outside of the local Rite Aid and asked people to donate items such as vitamins and over-the-counter medicines. The students also raised funds to cover their travel expenses and to hire two Honduran doctors and a pharmacist to join them on site.
"We worked as a cohesive unit to do a lot of fundraising events," said Hiro Nakagawa, a junior chemical engineering major and next year's CMU GMB vice president. "I was really amazed by the teamwork that was involved in this process. We definitely got to know each other well, even before the trip."
The 2012 trip marked the CMU chapter's third trip to Honduras. The organization's visibility on campus has definitely risen, according to Record.
"We started recruiting for the trip in September," Record said. "Sixty people applied, so we had to do interviews because there are only a certain number of spots."
Masanari Kato (E'12) plays with a child during a mobile clinic in Pajarillos, Honduras.