June 15, 2012
Q&A: Don Carter on Reinventing Pittsburgh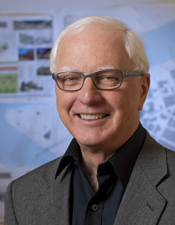 Don Carter is a native Pittsburgher who has seen the city change. The David Lewis Director of Urban Design and Regional Engagement of the Remaking Cities Institute recently talked about some of these positive changes in a book chapter and presentation. The Piper recently caught up with Carter to learn more about healthy communities.

What constitutes a "healthy community" by today's urban design standards?
Healthy communities are walkable, compact, mixed use, mixed income, served by transit, and close to nature (parks and trails). The irony is that we had those neighborhoods all along - our historic neighborhoods designed and built before World War II and before suburban sprawl.
What are some examples of great neighborhoods in our local area?
There are three projects in Pittsburgh designed by my firm, Urban Design Associates, that create walkable neighborhoods and healthy communities: Crawford Square (Hill District); Summerset (Squirrel Hill); and Liberty Park (East Liberty). Other new developments by other firms include Washington's Landing and a number of South Side waterfront projects. An historic neighborhood to visit is Chatham Village on Mt. Washington, a 1930s affordable housing project that is world-renowned. And of course, many of our older neighborhoods qualify as very livable and healthy (Shadyside, Dormont, Aspinwall, Mexican War Streets, etc.).
You've recently written a book chapter. Tell us about that.
I wrote a chapter in a forthcoming book from the University of Illinois Press, "SynergiCity: Reinventing the Post-industrial City." I was asked by the book editors to write the opening chapter, "The Future of the Post-Industrial City," using the transformation of Pittsburgh from industrially based to technology-based as a case study.
You grew up in East Liberty and saw the decline of that once thriving neighborhood. What happened to cause that decline and how has it become a sought-after place to live again?
Good people with good intentions created the 1960s destruction of East Liberty. Urban redevelopment was the rage then across the country, based on urban design theories that were inappropriate, such as massive demolition, ring roads, and pedestrian malls. The three Pittsburgh neighborhoods that suffered the most were East Liberty, the Lower Hill District and central North Side. Fortunately some of the bones of East Liberty were left intact and new interventions, such as the East Side project and Liberty Park, have begun to revitalize the neighborhood after 40 years of decline.
How satisfying is it now to see the re-emergence of East Liberty?
It is very satisfying. I remember well the 1950s vibrant business district of Penn Avenue with six movie theaters, 22 shoe stores, four department stores, two hotels, restaurants and streetcars that could take you anywhere. The tree-filled neighborhoods were healthy, and housed families from all walks of life, ethnic backgrounds and incomes. Every student walked to school. All was not perfect, of course. There were social disparities and rough areas in some neighborhoods, but overall East Liberty thrived and was a healthy community.
Overall, do you think city planners and leaders in Pittsburgh have done the right thing historically to make the city a great place to live?
Big mistakes were made in the 1960s and 1970s, as I mentioned earlier. Since then, the mayors and city councils, and the City Planning Department and the Urban Redevelopment Authority have been healing some of those past wounds and supporting new developments, such as the South Side Works and the North Shore, which are examples of good urban planning.
What are we doing best now? What would you like to take back and do over?
The city is now engaged in a multi-year comprehensive planning process that will encompass all aspects of urban life, from parks to transportation to public art to housing to economic development to sustainable development. The involvement of the major Pittsburgh foundations has been critical to raising the bar on good design in the city. I would like to take back the bad moves of urban redevelopment of the 1960s and 1970s.
What do you envision for the future? A return to the city from the suburbs? Continued neighborhood revitalization in the city?
Pittsburgh is well situated for continued revitalization. The economy is diverse. The core of the region is healthy. The fragility of transit funding troubles me, but my hope is that cooler heads will prevail in the next few months to find a dedicated funding solution. The plight of the poor and minorities remains an issue, nationally and locally. On the bright side, unemployment is the lowest of any comparable U.S. region. The population is beginning to grow again, albeit slowly, but particularly in the key age cohort from 24 to 34. Pittsburgh will benefit from national migration trends, such as the "return-to-the-city" movement of baby boomers, empty nesters and young professionals. Pittsburgh has quality of life and amenities far in excess of other cities its size. Affordability of housing is an asset.
The "green" and sustainability movement is deeply embedded in Pittsburgh as we continue to restore and repurpose historic buildings, build new LEED certified buildings, develop infill housing in existing neighborhoods, upgrade our parks, and develop trails and bike lanes.
Lastly, I am optimistic that the Pittsburgh Promise college scholarship program will bring families back to the city and that our public school system will grow and improve, just as the pioneering Kalamazoo (Mich.) Promise accomplished in that city.