January 19, 2012
Changes at the Top in Computing Services
Two emails to the Computing Services community this past Monday morning announced upcoming changes in leadership.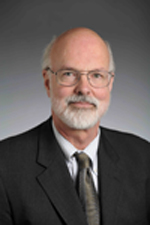 Provost and Executive Vice President Mark Kamlet announced that Joel Smith will be stepping down this August as vice provost for Computing Services, chief information officer and director of the Office of Technology for Education (OTE). Smith will begin a new position this fall as a distinguished career teaching professor in the Philosophy Department. Shortly after, an email from Smith announced that Carrie Regenstein, associate vice provost for Computing Services, will be retiring from CMU at the end of May to return to home of Ithaca, N.Y.

Kamlet praised Smith for his many contributions over the past 12 years, including the development of the online teaching tool Blackboard; efforts in disaster recovery, computer security, business continuity and enterprise-wide administrative software systems; and for playing an important role in the Open Learning Initiative. He lauded his "quiet but steady leadership" and his "rare combination of great managerial and technical skills, dedication and patience."

Kamlet said, "It is rather remarkable to think of how much things have changed during the period Joel has served. Twelve years ago, administrative computing had not yet merged into Computing Services — and Joel oversaw that in a sensitive and effective way. … Through it all, Joel, Computing Services and OTE have kept CMU always moving forward and serving the university in outstanding fashion."



Smith called Regenstein's leadership "pivotal" on many fronts and said her work has "changed the landscape of information technology support for the university's core missions." He said she has used her talents and experience "to transform Computing Services into a team that delivers reliable, sustainable and flexible services to the university." He credited her for leading Computing Services "in achieving clarity of mission, creating career paths that provide opportunities for both those who focus on management and those who focus on technology, and in forming lasting partnerships with the communities we serve."

Smith added, "She brought insight, energy, and purpose to a challenging position and made us all better as a result. … I know of no one who has worked harder in partnership with her colleagues to move our organization forward."
Pictured are Joel Smith (top) and Carrie Regenstein.