February 03, 2012
Stroll Through "Native Pennsylvania, A Wildflower Walk" in March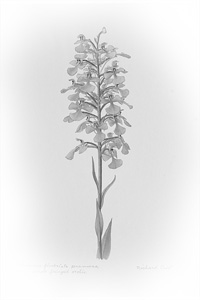 The beauty of wildflowers has captured many a painter, including Richard Crist.
Crist, who attended the Carnegie Institute of Technology, painted the 36 wildflower watercolors now featured in a collaborative exhibition between the Hunt Institute and the Botany Department at the Carnegie Museum of Natural History. Titled "Native Pennsylvania, A Wildflower Walk," the exhibit on the fifth floor of the Hunt Library runs March 2 through June 29.
The images are coupled with the museum's significant herbarium specimens, these pieces combine to create a visual wildflower walk through Pennsylvania's blooming seasons with a focus on endangered, rare and threatened species.
Additional watercolors by artists Lyn Hayden and Andrey Avinoff underscore the exhibition's emphasis on the importance of herbaria and their contributions toward research, education and conservation.
A series of free talks will take place at 2 p.m. on Sunday afternoons throughout the spring and early summer. Topics include:
"Why do plants bloom when they do? Spring ephemerals and other seasonal flowering patterns"
March 18
Steve Grund, botanist for the Western Pennsylvania Conservancy and the
Pennsylvania Natural Heritage Program, will discuss some of the native plants with the paintings of Crist and focus on the diversity of flowering strategies exhibited by native plants, emphasizing species that will be coming into
bloom locally during the next
few months.
Grund's work focuses on the conservation of the flora of Pennsylvania with emphasis on rare species. He is a research associate with the Botany Department at the Carnegie Museum of Natural History and a member of the Pennsylvania Biological Survey, for which he chairs the Pennsylvania Rare Plant Forum.
"Pressing and mounting specimens for a personal herbarium"

March 25
Jeanne Poremski will demonstrate the process of pressing plants for preservation in a personal herbarium. From the selection of the plant to its pressing, arrangement and gluing, Poremski will cover all aspects of plant preservation for both simple and complex specimens.
Poremski is owner of Jeanne Poremski Gardens in Uniontown, Ohio, a landscape firm that uses appropriate native plants in its designs. She also does volunteer fieldwork and plant identification for the herbarium at the Cleveland Museum of Natural History.
"Wildflowers of Pennsylvania"

April 15
Mary Joy Haywood believes that learning and teaching about our wildflowers in Pennsylvania is critical today as so many of our plant communities are being destroyed by coal mining, Marcellus Shale drilling and other environmental issues. Her presentation will include photographs of rare plants and many of her favorites, such as violets, gentians, lupines, loosestrifes and the prickly-pear cactus. Many other plants will be shown and discussed.
Haywood is a botanist and plant pathologist and professor emeritus of the Biology Department at Carlow College, where she also served as the chair of the Division of Natural Sciences and Mathematics. She is the co-author of the book "Wildflowers of Pennsylvania" (2001), published by the Botanical Society of Western Pennsylvania, for which she served as president for 20 years.
"Wildflowers in the home garden"

April 22
John Totten said a home garden can be another place where art and science meet. Native plants and their wild haunts are powerfully evocative, and, with care, home landscapes can be created. Creatively using these plants in the garden requires the painter's ability to compose a scene and the scientist's ability to handle plant selection and care. Learn to evaluate your property with an eye toward selecting suitable plants, purchasing them responsibly and growing them successfully.
Totten is a partner in the garden management and development firm, Gardens! LLC. He is an adjunct faculty member at Chatham University's Landscape Architecture Graduate Program and Penn State University's Sustainable Landscape Program.
Gallery tour of Native
Pennsylvania, A Wildflower Walk with Hunt Institute curator

May 20
"Rare plants of Pennsylvania"

June 24
Nearly one quarter of the native flora of Pennsylvania is considered rare or endangered. Plants are considered rare for a variety of reasons. Find out what some of the rare plants are and what factors are used to classify a plant as rare in Pennsylvania.
Bonnie Isaac is the collections manager of the Botany Department at Carnegie Museum of Natural History and co-curator of this exhibition. She focuses on the ecology of the phytogeography of rare plants, floristics and herbarium techniques. She also is the current president of the Botanical Society of Western Pennsylvania.
Open House 2012

June 24-25
During its annual Open House, the Hunt Institute will offer talks, tours and opportunities to meet one-on-one with staff to ask questions and see items in the collections. A schedule of events is available online at http://huntbot.andrew.cmu.edu/HIBD/.
Hours

The exhibition will be on display on the fifth floor of the Hunt Library and will be open to the public free of charge. Hours: Monday-Friday, 9 a.m.-noon and 1-5 p.m.; Sunday, 1-4 p.m. (except March 11, April 6-8 and May 6, 27 and 28.)    
For more information, contact the Hunt Institute at 412-268-2434.