February 03, 2012
Swiss Poster Collection
Benefactor Leaves Legacy of Excellent Design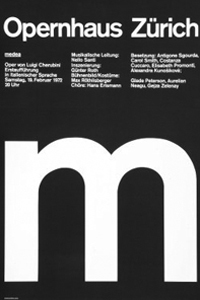 Dan Boyarski says there's two ways to look at design: "You can hit someone on the head, or you can whisper."
There's a lot of whispering going on in German, Italian and French at Hunt Library, where hundreds of Swiss posters, often cited as examples of excellent graphic design, are stored. At any given time, five of the posters are on display near Kirr Commons in the University Center.
The posters were given to the university by Ruedi Rüegg, who Boyarski, former head of the School of Design, met when he was studying in Switzerland 35 years ago. Rüegg died last October.
Rüegg contacted Boyarski in 1987 about finding a home for a set of 300 posters that had been on display in Japan and were winners of Switzerland's Ministry of Home and Cultural Affairs annual poster design competition. He would send additional posters each year for the collection.
"It was terrific. The collection continued to grow, it continued to document Swiss design as it's evolved," Boyarski said. "That's one of the beauties of this poster collection is that now you have four decades of Swiss posters, and that's pretty unique."
Born in Zurich, Rüegg worked as a graphic designer and later co-owned the Müller-Brockmann studio. He spent time in the United States and in Japan. He served as the president of the Swiss section of the Association Graphique Internationale from 1976 to 1981, and opened the Baltis and Rüegg joint studio in 1977, which later became Design Alltag Zurich.
The collection, now at 500 posters, was donated with the intent that they be made available for research for the university and for the public.
You can find them online, but their impact is greater in person. Each poster measures roughly 36" x 50," and they can be found in flat map drawers in Hunt Library's Special Collections.
Mary Kay Johnsen, special collections and design librarian, maintains the collection and brings items out when classes come to visit.
During one class Johnsen swept her hands over the glossy posters to show the power of a black, red and white pallet and the effect of vibrating colors on the eye.
"They're really big, huge, floppy and ungainly," Johnsen said.  She said that digitizing the posters, which was started in 1996, was one of the first digital projects handled in-house by the library.
The posters were designed to promote cultural and civic events and advertisements, so they were not created for long-term use. In Switzerland, they are displayed in outdoor kiosks throughout the country, which led to the standardization of the size.  
Boyarski said much can be learned from the collection of how design has evolved. But the impact of their seemingly simple designs remain the same. He described Swiss design as visualizing concepts instead of "hitting someone on the head" with explicit images to convey a message.
"In the '60s and beyond, Swiss graphic design to many American designers looked well-organized, well-presented and often dependent on a grid," Boyarski said. "But if that's all one says about Swiss posters, then that's doing them a disservice because they're also incredibly inventive in how they visually communicate an event."
A poster by Ruedi Rüegg announcing a performance of "Medea," is part of the university's Swiss poster collection. Rüegg donated 500 posters, which were cited by the Swiss government as excellent examples of good design.