February 03, 2012
Soccer and Science
CMU Signs New Agreements With Qatar
CMU To Assist With World Cup ...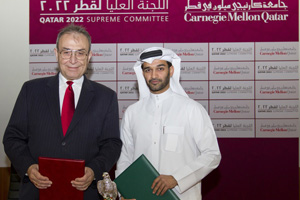 Carnegie Mellon Qatar has recently signed two memoranda of understandings (MoU) with Qatar to assist the country with scientific research, capacity building and information systems, and with hosting projects and programs associated with the 2022 FIFA World Cup.
Hassan Al-Thawadi, one of the most powerful sports figures in the Middle East as Secretary General of the Qatar 2022 Supreme Committee, and Carnegie Mellon Qatar Dean Ilker Baybars signed the MoU regarding the world championship soccer event after Al-Thawadi spoke on CMU's Qatar campus last month.  He talked about how sports is a means of socio-economic development during a Deans' Lecture titled "Qatar 2022 FIFA World Cup: The Path to Success."
Al-Thawadi recalled Qatar's bid to host the world's foremost tournament and shared many of the challenges the country faced to win the bid in late 2010. He advised students to seize chances to become future leaders, innovators and entrepreneurs in Qatar.
"The opportunities that lie ahead are vast and varied. It may seem now that the future I speak of is a long way off, and you might be concerned with the more immediate obstacles and challenges that you face - but I have no doubt that the education you are receiving here is the ideal foundation for success in whichever fields you decide to focus," Al-Thawadi said.
"What you are experiencing here at CMU and Qatar Foundation is the realization of the innovation and pioneering spirit that Qatar as a nation has exemplified. This pioneering spirit was what convinced us that not only should we bid to host the FIFA World Cup in 2022, but that we were capable of winning."
"Through this MoU, Carnegie Mellon Qatar is looking forward to being a strategic partner of Qatar 2022 Supreme Committee in national capacity-building efforts ... and Qatar 2022 FIFA World Cup projects, empowering a generation of future leaders in Qatar," Baybars said.
And With Research and Education
Carnegie Mellon Qatar also signed a MoU with Qatar's General Secretariat for Development Planning (GSDP) to enhance future efforts in scientific research, capacity building and information systems.
His Excellency Saleh bin Mohammed Al Nabit, GSDP secretary general, and Baybars, signed the MoU on Dec. 14. The two organizations will work together to explore collaboration to offer joint solutions in the areas of computing, advanced information system services, and education and training for executive leadership. The agreement aligns with the Qatar National Vision 2030 and National Development Strategy 2011-2016.
Commenting on the partnership, Al Nabit highlighted the cooperation as a progressive milestone for GSDP and Carnegie Mellon Qatar. He stressed the MoU's importance in serving the Qatari community, recognizing Carnegie Mellon Qatar's role in scientific research and educational initiatives, especially in the field of executive education, which will help prepare nationals to compete in the labor market and support the country's growth and development.
Carnegie Mellon Qatar Dean Ilker Baybars and Hassan Al-Thawadi sign a memorandum of understanding.