February 03, 2012
"SMASH" Cast Members Credit CMU for Their Success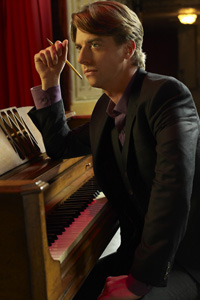 Three in one.
That's what you're getting in this season's primetime lineup as Carnegie Mellon drama alumni Christian Borle (A'95), Megan Hilty (A'04) and Leslie Odom, Jr. (A'03) - selected by an elite casting team including Executive Producer Steven Spielberg - star in the highly anticipated television show "SMASH" on NBC. The show centers around the behind-the-scenes excitement of creating a Broadway musical about the life of Marilyn Monroe.
"Audiences are going to get smart television, they're going to get great music, and I think they're going to see what it really is like behind the scenes," Borle said.
Hilty plays Ivy Lynn, a feisty Broadway veteran who appears to be the obvious choice for the lead in the show before her chances are threatened by a newcomer.  
"I think a lot of people can relate to her because when you meet Ivy Lynn, she's been in the ensemble for about 10 years and she's just dying to make that next step to become a leading lady. I think a lot of people can relate to feeling stuck in their jobs; you don't have to be in theater," Hilty says of her role as Ivy.
Borle's character, Tom Levitt, is a composer and half of a successful songwriting team along with Debra Messing's character Julia Houston, whose music will fuel what they hope will be Broadway's next big hit.
"We are the artistic soul of the creative team. I think we are the ones that wear our hearts on our sleeves," Borle reflects about the duo.
Odom, who made his Broadway debut even before coming to CMU, starred as Paul in the hit musical "Rent" at the age of 17. Since perfecting his craft at the School of Drama he has had recurring roles on several television shows and continues to shine in this capacity as Sam Strickland on "SMASH."
Landing the roles on a primetime network show did not come easily. While they received the roles through an audition process, Borle and Hilty have both worked on Broadway as well, and had smaller television and film roles that have bolstered their careers to this point.
They credit Carnegie Mellon for the foundation of their success. The program often required long days and an intense study of the dramatic arts.
"My time at CMU really helped me in a lot of ways that I wasn't able to see when I was there, even aside from the techniques I learned. They really prepared us for this hectically creative lifestyle and anytime I have a hard day I look back and think, if I made it through those days, I can make it through anything," Hilty said.
In addition to studying their craft, the people that they met at Carnegie Mellon guided them and continue to serve as mentors in their careers. Both Hilty and Borle keep in touch with many of their former professors.
"There are a [few people] that I stay in contact with like Don Wadsworth, he's both a good friend and a teacher of mine, and Gary Kline taught me how to sing, but really it was everybody. We lucked out when I was there with the faculty; it was an extraordinary group of teachers. They didn't just make me the actor that I am, they contributed to the man that I am," Borle said.
Current students can learn a great deal from Hilty and Borle and listening to sound advice that only experience can garner.
"The most valuable bit of advice that I have ever received is, simply put, other people's success is not your failure. It's challenging. It's hard when you are in the trenches and you're seeing other people get what you want but you just have to keep focused on your own thing and have faith," Borle said.
Starring in a network television show is not an easy feat, but Carnegie Mellon certainly provides students with the right foundation to achieve it or any other goal they desire. Hilty, Borle and Odom are proof of that.
"I try to come back to campus as often as I can to let [students] know that you're doing this for a reason and good things do happen if you stick it through," Hilty said.
"SMASH," starring Carnegie Mellon alumni Christian Borle, Megan Hilty and Leslie Odom, Jr. premieres Feb. 6 on NBC. The show will air at 10 p.m. Mondays.
Christian Borle (A'95)