February 03, 2012
Center for Arts in Society Head Wants To Transcend Borders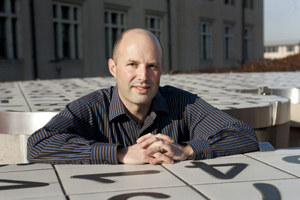 As director of the Center for the Arts in Society (CAS) since 2009, Paul Eiss, associate professor of anthropology and history, brings artists and scholars together in interesting and new ways - all to better understand how art influences society, culture and politics. Eiss' research and teaching focus on uncovering new perspectives on topics such as value, memory and religion.
How do you use a transdisciplinary focus and what are the benefits?
I have always been committed to exploring the possibilities of working betwixt and between multiple disciplines: in my case, the disciplines of anthropology and history. One way we might label such work is with the term "interdisciplinarity."
Interdisciplinary work places fields in conversation. It is like smuggling across a border - that is, carrying ideas or methods from one discipline into another without necessarily transforming the methods or subjects of either field.
Another term, which I prefer - "transdisciplinarity" - aims at transcending the separation between disciplines.
Transdisciplinary work seeks knowledge of and engagement with the world not through the specialization of fields of knowledge, but through their unification.
For me transdisciplinarity does not imply merely crossing the borders between disciplines, or smuggling ideas between them. It is a transgressive, even utopian, project: one that seeks to inhabit the borderlands, and to imagine the world unconfined by disciplinary borders.
How does this approach impact a collaborative effort like the CAS, which by its very nature is cross-disciplinary?
The center was established at Carnegie Mellon not only to connect distinct disciplines, departments or schools, but to transcend a more fundamental divide: between humanities and the arts.
I have interpreted our mission as also bringing a charge to transcend the borders or barriers that typically separate academe from a world of social, political and artistic engagement beyond the university. Moreover, I think that the center has the potential to help us transcend our own tendencies to separate our creative work as artists or scholars from our work as teachers.
I have tried to foster long-term working collaborations between faculty in the arts and humanities at CMU, and to make those partnerships the centerpiece of the center's efforts to provoke significant changes in scholarship, artistic production, teaching and outreach.
In the process, many of the center's members and visitors have sought out ways to engage with the most important social and political issues of our times: migration, the environment, technological change, war, and protest and political movements.
Since becoming CAS director what has been the center's biggest accomplishment? Toughest challenge?
Our biggest accomplishment over the last four years has been that of successfully carrying out a major organizational reform, centered on the institution of three-year "initiatives" as rubrics for faculty projects, center events and undergraduate education.
The first initiative (2009-2011), organized by Jon Klancher of the English Department and John Carson of the School of Art, was titled "Public Art." It supported many events, and three successful multi-year faculty projects. Judith Schachter, a professor of history, and Andreea Ritivoi, an associate professor of English, led a project in Controversy and the Arts, which produced a fine series of events as well as an edited collection of essays that will be published by Palgrave Macmillan this year. Wendy Arons, an associate professor of dramatic literature, led a project in performance and ecology that resulted in several talks and performances, as well as an edited collection of essays, also due out this year with Palgrave Macmillan. Jon Rubin, an assistant professor of art, led a project focused on the Waffle Shop and the Conflict Kitchen, which have been sites of extraordinary activity joining faculty, students and community members in innovative ways.
The center also sponsored two resident artists from off-campus: Tavia Lafollette, who brought together artists from Pittsburgh and Egypt in a unique collaborative project called "Sites of Passage," and Anya Martin, who authored, directed and produced "Camino," a play focused on the experiences of migrants and the use of for-profit detention centers for their internment. Finally, we supported two community projects - the Arts Greenhouse, led by Schachter, Nico Slate, Riccardo Schulz and Natalie Ozeas, and Jóvenes Sin Nombres, led by Michal Friedman - which use artistic forms like hip-hop, mural painting and video production as contexts for education and social and political engagement.
The center's 2011-2013 initiative focuses on media. Why?
Media studies, as a field, is not a recent invention. For several decades, media studies scholars and programs have focused on the study of mass media, such as television and print media.
What "is" a recent development is the striking role that "new media" (i.e. digital, networked, computer-mediated media) and "social media" now play in social life, cultural politics and political mobilizations from Cairo to Wall Street.
Carnegie Mellon houses a remarkable array of faculty whose work focuses on media - whether "old" or "new" - though they are dispersed in diverse colleges and departments. The "Media" initiative, co-organized by Art Professor Jim Duesing and English Associate Professor Kathy Newman, is an attempt to draw those faculty together and support projects.
What can we look forward to from the CAS this spring?
The "Media" initiative is catching fire. Two multi-year projects are set to become active in the spring.
The first, called "Listening Spaces" - led by Assistant Professor of English Rich Purcell and Assistant Professor of Music Theory Richard Randall - explores how the proliferation of portable as well as computerized audio technologies has transformed the way human beings listen, consume and produce music and sound.
The second, called "Gender/Sexuality/Media" and led by Associate Professor of Art Suzie Silver, will explore issues surrounding gender expression, sexuality and gender representation in media in the 21st century. This project will focus on the creation of a Web-based TV variety show series called "Bait and Switch."
We will select a third project for support later in the semester.
The center also is sponsoring a variety of events related to the media initiative in the spring semester.
Your book "In the Name of El Pueblo" came out in 2010. What are you working on now?
At the moment I have two new book-length projects under way.
The first, provisionally titled "Narcostate," is a study of what I call the narcomedia: that is, of the convergence of the so-called drug war and the rise of the new media in contemporary Mexico.
The second, titled "Playing Mestizo," is a study of popular theater in Yucatán focused on the cultural politics of mestizaje, or race-mixing, from the 19th century to the present.
Upcoming Center for the Arts and Society Event
A panel discussion on "New Media/News Media: How New Media are Changing the Way We Make and Consume the News" will be held at 4:30 p.m., Wednesday, Feb. 15 in Baker Hall's Steinberg Auditorium (A53). Panelists are Tony Norman, a columnist at the Pittsburgh Post-Gazette; John Allison, Post-Gazette opinion editor; Chris Potter, editor of the Pittsburgh City Paper; Martha Rial, a Pulitzer Prize-winning photographer at the Post-Gazette; and Deanna Garcia, reporter at
Essential Public Radio. 
Paul Eiss, director of the Center for the Arts in Society