February 10, 2012
Obituary: Last Lecture Co-Author, Alumnus Jeffrey Zaslow Killed in Car Accident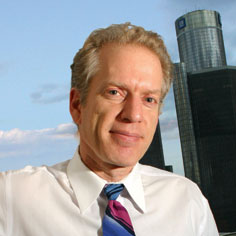 Best-selling author, longtime Wall Street Journal columnist and Carnegie Mellon alumnus Jeffrey Zaslow (DC'80) died Friday, Feb. 10 from injuries suffered in an automobile accident in northern Michigan. He was 53.
The Wall Street Journal reported that according to Zaslow's wife and the Antrim County Sheriff's Office, he lost control of his car while driving on a snowy road and collided with a truck.
Zaslow may be best remembered at Carnegie Mellon for co-authoring "The Last Lecture" with the late CMU Computer Science Professor Randy Pausch. After driving 300 miles from Detroit to Pittsburgh to attend Pausch's now world-famous presentation in CMU's McConomy Auditorium, Zaslow wrote about it poignantly and memorably in his widely read Wall Street Journal column, "Moving On."
His column and a video of the lecture was posted on the Wall Street Journal website and it went viral. The book followed, drawing on the lecture and interviews between Zaslow and Pausch — some 53 cell phone conversations during Pausch's daily bike rides. The Last Lecture was on bestseller lists for more than a year and it has been translated into more than 40 languages.
Zaslow was dedicated to CMU and its students. He became an annual speaker during CMU's freshman orientation activities, speaking about his days writing the book with Pausch, the lessons he learned from the experience and his student days at CMU. He also frequently visited classes to speak with students. He received a 2009 Distinguished Service Award from the Alumni Association.
Zaslow also authored "Highest Duty," a book about airline pilot Chesley Sullenberger, who safely landed a jetliner in the Hudson River in New York City after birds damaged the jet's engines. He also was a contributor to "Gabby: A Story of Courage and Hope," which chronicles the recovery of U.S. Representative Gabrielle Giffords after she was tragically shot at a political gathering in Tucson, Ariz. His most recent book, "The Magic Room: A Story About the Love We Wish for Our Daughters," was published this past December.
"We are deeply saddened by the death of Jeff Zaslow, a loyal Carnegie Mellon alumnus who made the stories of Randy Pausch, Gabby Giffords and many others touchstones of comfort, inspiration and humor," said Carnegie Mellon President Jared L. Cohon. "Through his gift for storytelling and through his life, Jeff influenced many of us. He visited campus often to share the important lessons learned from Randy's Last Lecture with our students. Carnegie Mellon mourns his loss."
"Jeff Zaslow was an example of what a talented, passionate, energetic individual armed with a Carnegie Mellon education can bring to the world," said John Lehoczky, dean of the Dietrich College of Humanities and Social Sciences. "Jeff's professional contributions — from the Last Lecture phenomenon and his other enormously important and successful books to his work as a journalist — have inspired millions of people. He continued to play an important role with our students, often visiting classes and sharing his experiences. He will be greatly missed.  My thoughts are with his wife, Sherry Margolis, and their three children."
Chris Neuwirth, head of CMU's English Department, said Zaslow was a friend of the English Department through his generous giving and by sharing his experiences with students on numerous occasions. Neuwirth said there is one episode Zaslow recounted that she will continue to share with her students.
"When the Wall Street Journal assigned Jeff to write about the Chicago-Sun Times' search for a replacement for Ann Landers, a lesser reporter would have defined it as a mundane, routine assignment; Jeff took a completely innovative approach and applied for the job himself — and got it! I tell this story to our current students in the hopes that they will be inspired to be as creative as Jeff in the pursuit of a story and to seize life's opportunities as they come along," Neuwirth said.
"Jeff Zaslow brought a deep sense of empathy and caring to all that he wrote," said Jim Daniels, the Thomas Stockham Baker Professor of English. "His curiosity about and engagement with individual lives are traits I hope to instill in all of my writing students. Despite all of his success, he never forgot his connections to the creative writing program, and he continued to be active in the Carnegie Mellon community. Jeff was generous and supportive, funny and down-to-earth, and he touched so many lives around the world with his writing that his work will have impact on generations to come."
Zaslow was editor of the Tartan, CMU's student newspaper, during his undergraduate days at the university.
"As editor of the Tartan, I learned a great deal about journalism. More importantly, I saw all these special and gifted kids, from drama, from engineering — I learned about the vast array of talented people out there in the world," Zaslow said in a story that appeared on CMU's website.
A Philadelphia native, Zaslow is survived by his wife, Sherry, who is an anchor at a Fox television station in Detroit, and three daughters: Jordan, Alex and Eden.
Funeral arrangements are being handled by Ira Kaufman Chapel in Southfield, Mich.