February 03, 2012
Diversity Initiatives Focus on Engagement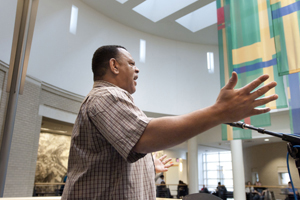 After years of focusing on efforts to create a more diverse university, the emphasis has turned to focus on meaningful engagement, Carnegie Mellon Jared L. Cohon said during his annual state of diversity address on Martin Luther King Jr. Day.
The "Guiding Principle for University Culture," authored in 2010 by the Diversity Advisory Council (DAC), aims to foster opportunities for interaction.
"Interestingly we've heard from many faculty, staff and students that it's not clear to them, always, how to engage with people who are different than them. This is true in people of every constituency. Those of us who have a lived a life dealing with people who are just like us are not necessarily trained or ready or feel equipped or confident to engage with people who are very different than us," Cohon said. "We accept this and we are initiating various programs to help people feel more confident and give them the tools to engage."
In 2011, each dean was charged to initiate a project that would foster and encourage meaningful engagement between the diverse groups of their school. The projects can be found in the DAC's 2012 report online at
www.cmu.edu/diversity-guide/pdfs/2012-dac-report.pdf
.
"As parents, we guide and prepare our children so they can go off into the world on their own. As educators, we prepare our students professionally so that they can enter the workplace. The workplace, any workplace, anywhere in the world, is a social environment; no one works in a vacuum," Cohon wrote in the annual report. "In addition, today the workplace is the world; it is a global workplace that continues to expand with astonishing speed. We would be poor educators, indeed, if we focused solely on providing our students with technical expertise at the expense of professional skills and personal development."
The focus on improving meaningful engagement will continue for the coming year. While each college is working to address increased and meaningful engagements, the council is working on how to support the initiatives from a university-wide level.
Cohon said the Tepper School has faculty who do research in putting together teams for effectiveness. There are also faculty who have years of experience in putting together project teams of students for work.
"We've been taking advantage of the expertise that exists at the university and spreading it to other faculty so that they can get the benefit of that experience and then benefit in assembling their project teams to promote more engagement and more value for our students," Cohon said.
Efforts continue to increase minority representation among students, faculty and staff and to promote diversity in all respects. Cohon shared some of the data from the DAC report. He said the highlight has been the undergraduate student body.
"We've seen a marked increase in recent years in African Americans, Hispanics and Native Americans, to some extent," he said.
In this year's freshman class, traditional underrepresented groups represent 17 percent of the student body, up from 15 percent the last two years and 10-11 percent historically.
Today, there are 808 minority students enrolled out of a student body of more than 5,500, Cohon said, compared to 522 minority undergraduate students 10 years ago.
Retention and graduate rates are remarkably better than they were 20 years ago, Cohon said. He said there used to be a gap of around 20 percent between minority retention rates and majority retention rates. For 2010, first-year retention rates overall were 95.7 percent, with minority rates at 92.5 percent and majority rates at 96.2 percent.
"If you go back say 20 years there would have been a very large gap between majority retention and minority retention," he said. "Somewhere around 20 percent. That has basically disappeared and is something that is a result of a major effort by this university."
For faculty, Cohon said that while there have been a number of women and minority faculty who have been recruited, overall rates have been flat because while more are more being hired, more are also leaving. He said each case has its own story.
"We've had a lot of recent successes that have been very encouraging," he said. "But we have a lot more work to do.
"Overall Carnegie Mellon is much more diverse than it was but there are many areas where more progress is needed, and while we're continuing to push to increase the diversity of our student body, our faculty and our administration, we are also focused on the cultural aspects, in particular on meaningful engagement."
Darrell Lumpkins recited Martin Luther King, Jr.'s "I Have a Dream" speech during the university's annual celebration. Lumpkins, who works for ISS Facilities Services, has delivered the dramatic monologue for more than 34 years around the world. This was his first performance at CMU.