December 14, 2012
Qatar Biology Outreach Program Excites High Schoolers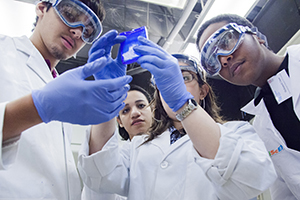 More than 60 students from 14 high schools got a taste of a crime scene investigation during an interactive outreach program offered by Carnegie Mellon Qatar's biological sciences and computational biology programs.
The Biotechnology Explorer Program, similar to outreach efforts at the Pittsburgh campus, engages secondary school students through hands-on laboratory experiences while teaching them the science behind the techniques they learn.
When students entered the classroom, they saw a "crime scene," complete with an outline of the victim's body on the floor. They then became forensic experts, collecting DNA samples from both the crime scene and the five suspects. They broke the DNA into specific fragments using restriction enzymes and used a technique called DNA gel electrophoresis to determine the size of their fragments.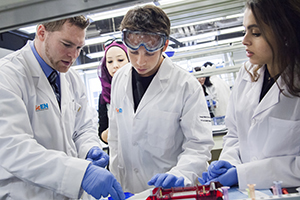 After staining their gels to see the DNA and taking a picture of their gels, they were able to compare the pattern of DNA fragments from the crime scene to see if it matched any of the suspects. A match would indicate they had found the murderer.
Kenneth Hovis, assistant teaching professor of biology at Carnegie Mellon University in Qatar, used to assist Carrie Doonan with outreach efforts at the Pittsburgh campus.
"One of my primary goals with this program is to get high school students in this region excited about biology. This activity gets them interested in the problem they are trying to solve, and they forgot that they are learning a lot," Hovis said.
"My second goal is to help teach and prepare students to be successful as they enter the university setting to study sciences. The techniques they learn during the course of this program are basic techniques they will use in nearly any biology or pre-med program they might enter," Hovis added.
During last year's program, Carnegie Mellon taught students about their immune system and simulated a disease outbreak among the participants. Students had to determine if they were affected, by following the data trail backward to pinpoint the source of the infection.
High school students examine gel to identify the DNA band patterns. Rayan Mahmoud (center), graduate of the Biotechnology Explorer Program, is now a CMU first-year student in biology.

Ken Hovis, at left, shows two high school students DNA patterns on a gel. In the background is Mei Elgindi (S'13), who conducted research in Pittsburgh this summer.