December 14, 2012
Lecture Spotlight:
Martin Luther King Jr. Day Speaker Wants To See Attorneys Volunteer More
By Heidi Opdyke opdyke(through)andrew.cmu.edu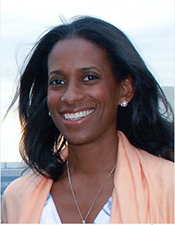 Binta Niambi Brown didn't get to run her first New York City marathon this year, thanks to Hurricane Sandy.
Instead she wore her race shirt while she volunteered to help victims of the massive storm that swept through her adopted city.
"For me personally, the fact of survival means certain responsibilities," she wrote in a Huffington Post blog about her experience.
Brown will deliver the keynote speech, "Remember Your Name," for CMU's 2013 MLK Day celebration on Jan. 21.
A partner in the Corporate Practice Group of the New York office of Kirkland & Ellis LLP, she has represented corporate clients in connection with merger and acquisition transactions, public and private debt and equity offerings, and secured debt financings.
She advocates that pro bono work should be made a requirement for attorneys rather than a recommendation. Some of her own volunteer work has included advocating on behalf of women and girls, assisting with democratic institution building and rule-of-law reforms, and engaging in other human rights matters throughout the world.
Fortune Magazine named the self-described "problem solver" to its list of business's 40 under 40 "hottest rising stars," and the World Economic Forum honored her as a Young Global Leader in early 2012.
She also was named one of the 2011 "40 Under 40" professionals in Crain's New York Business, and the National Organization for Women recognized her as a "Woman of Power and Influence" in June 2011. Super Lawyers Magazine listed her as a New York "Rising Star" in September 2011.
In 2005, the U.S. Army and the Fifth Division of the Iraqi Army honored Brown for her pro bono support of a military operation that resulted in securing emergency medical care in the U.S. for a young Iraqi civilian.
A graduate of Barnard College and Columbia Law School, Brown is a member of the Council on Foreign Relations and a Truman National Security Fellow. She also is a member of the Board of Trustees of Barnard College, Columbia University, the New York City Parks Foundation and the American Theatre Wing. She is a member of the Board of Directors of Human Rights First.
Arrangements for the appearance of Brown were made through The Guild Agency Speakers Bureau.
Carnegie Mellon celebrates MLK Day with "A Day On, not a Day Off" though community and civic engagement to honor Dr. King's legacy of tolerance, peace and equality. Students, faculty, and staff enjoy projects and events relating to social change, community building, diversity and multicultural understanding. Past projects have highlighted social issues such as hunger, homelessness, racism and poverty.
Who:
Martin Luther King Jr. Day Keynote Address 
What:
Binta Brown
When:
5 p.m., Monday, Jan. 21
Where:
Rangos Hall, University Center