December 14, 2012
Estate Art Tarentum Family Items on Display in Shanghai
By Pam Wigley pwigley(through)andrew.cmu.edu
Jon Rubin met the Lovasik family in their Tarentum neighborhood just outside of Pittsburgh, and now he is sharing parts of their lives with strangers from Shanghai.

The Lovasiks aren't particularly famous, and they don't have an extraordinary story to tell. But they became part of the associate professor of art's world when he bought their entire home of possessions at an estate sale earlier this year and transported the 3,000 items to China for the 9th Shanghai Biennial, which began Oct. 2 and runs through Dec. 31.

Organized by independent curator Chelsea Haines and sponsored by The Andy Warhol Museum, the Pittsburgh Pavilion at the 9th Shanghai Biennial explores the life and legacy of one ordinary family in Pittsburgh.

By the end of the biennial, Rubin will have nothing of the Lovasiks left to ship back to the States. Every item, from a mailbox to a recipe holder and family photos to furniture, is for sale. By the end of the exhibition, Rubin will have sold every last piece. He then will purchase the estate of a typical Shanghai family and ship it to Pittsburgh for display at the Warhol Museum next fall. The cultural exchange, Rubin said, will be of interest to people on both sides of the world.

"I think the people of Shanghai are fascinated with what they see as a classic American family's home, which just happens to be from Pittsburgh," he said. "And, likewise, I expect that Pittsburghers will be interested in seeing what the Warhol exhibit of a classic Shanghai home entails."

The biennial is considered to be the highest profile contemporary art event in Shanghai, featuring the primary art show as well as lectures and installations throughout the city.

Rubin was chosen to be part of the biennial by curator Haines, who was familiar with his Conflict Kitchen project. Thirty cities are represented, and Pittsburgh is one of only five in the U.S. The others are Detroit, Los Angeles, San Francisco and Brooklyn. Approximately 600,000-800,000 people are expected to tour the biennial exhibits.

That certainly will provide a nice flow of foot traffic for Rubin's Pittsburgh estate sale, helping to guarantee his purchase of a Shanghai family home to share with all who visit the Warhol exhibit in 2013. The specific exhibition dates will be announced shortly.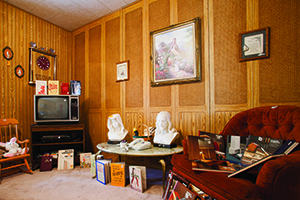 Before: The Lovasik family home in Tarentum prior to the items being shipped to Shanghai.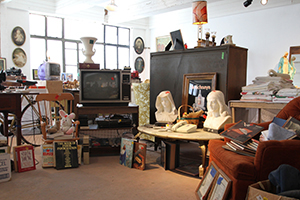 After: More than 3,000 items were shipped to the 9th Shanghai Biennial and will be sold through March 31.

Online: http://lovasikestatesale.tumblr.com/