December 14, 2012
Asian Tour
Cohon Visits Alumni; Celebrates New Partnership in China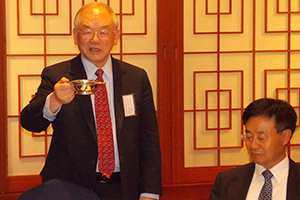 During a whirlwind 12-day Asian tour of eight cities, President Jared L. Cohon met with alumni and introduced a new Carnegie Mellon tradition. At each stop, guests toasted with Quaichs, pronounced "quakes," which are small, two-handled drinking vessels native to Scotland. Hosts would keep Quaichs in their homes to welcome guests or bid them farewell.
The recent trip included stops in Beijing, Guangzhou, Hong Kong, Shanghai, Singapore, Taipei, Tokyo and Seoul. During a trip to Asia last February, Cohon received an honorary degree from the Korean Advanced Institute of Science and Technology (KAIST) in Daejeon, Korea.
The university has much to celebrate, including a new College of Engineering (CIT) partnership in China.
CMU Joins Sun Yat-sen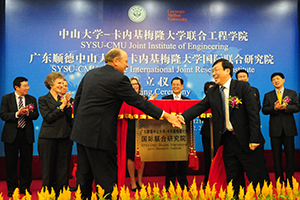 A new joint graduate engineering program, the Joint Institute of Engineering, is being developed by CMU and Sun Yat-sen University in Guangzhou, China. A Nov. 12 ceremony celebrated the partnership and launched the Shunde International Joint Research Institute (JRI) with Shunde District, Foshan City, as a complement program of the JIE.
"We are honored to partner with Sun Yat-sen University, as its distinguished history and educational strengths make it one of China's leading institutions," Cohon said. "We look forward to bringing CMU's strengths in innovation, technology and creative problem solving to the institute, which we hope will be the beginning of a long and productive collaboration between our two universities."
SYSU President Xu Ningsheng, who led the program's ceremonial launch, said they selected CMU because its great academic and research reputation is well suited to China's vision of transitioning its economy from mass labor to technology-driven initiatives within the next decade and fostering future technology leaders with an innovative and entrepreneurial mindset.
The mission of the Joint Institute of Engineering (JIE) will be to further world-class education in engineering and perform cutting-edge research in China.
"This is a great opportunity for Carnegie Mellon to expand on its global presence. The education and research program will focus on many important areas so endemic to Carnegie Mellon to help build a top-notch engineering program in China," said Jimmy Zhu, the ABB Professor of Engineering and head of CMU's Data Storage Systems Center (DSSC), who is co-heading the new JIE.
The SYSU community is excited to explore a new and effective model for engineering education with CMU.
"We hope that the future success of the JIE will form a new effective way in engineering education for SYSU," said Professor Li Wenjun, the assistant to the president of SYSU who will co-head the JIE effort with Zhu.
SYSU and its local community are expecting that the JIE and JRI will help local research communities and industries to carry out innovative research and product development, solving the practical engineering problems that will help lead local industry improvement.
SYSU is located about 100 miles northeast of important trade and economic centers like Hong Kong and Macau, giving it access to the Asia-Pacific region's most vital business hubs.
"We see this joint institute as a way to enhance engineering education in China, develop innovative engineering education programs and educate tomorrow's leaders," said Vijayakumar Bhagavatula, CIT interim dean.
CMU's relationship with China is longstanding, and the university has more than 800 alumni in China. In 1919, the university granted its first Ph.D. in civil engineering to Mao Yisheng, a pre-eminent engineer who designed China's two most famous bridges - the Qiantang River Bridge near Hangchow and the Yangtze River Bridge in Wuhan.
CMU President Jared L. Cohon shakes hands with SYSU President Xu Ningsheng in celebration of a new joint engineering program.

KAIST President Nam Pyo Suh (E'64, H'08) toasts fellow CMU alumni during an event in Seoul, Korea.