August 02, 2012
Photographer's Best Friend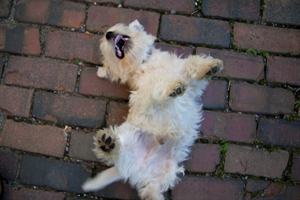 Charlee Brodsky
is melding two of her passions — dogs and photography — in a new exhibit called "Good Dog." She said it was an unconscious effort that now seems destined.
"I was naturally drawn to photographing my dogs and maybe it is not surprising that I decided to linger a few years on work that features them," Brodsky said in her artist's statement. "Humans and dogs share a magical relationship and we are learning more about the science behind this connection."
Brodsky, a fine art documentary photographer and professor of photography in the School of Design, is the Pittsburgh Center for the Arts' 2012 Artist of the Year.
Her work focuses on social issues and beauty and she has teamed with writers to publish her photographs in several books, including two about the former steel town of Homestead, Pa. — "Homestead: A Town Without Steel" and "Homestead: From Mill Town to Mall Town." Her provocative photography appears in books of personal narratives dealing with cancer ("Stephanie") and mental illness ("I Though I Could Fly") and about how giving birth to a child can cause emotional, mental and physical change.
The PCA show, which opens Aug. 10, features new works centered around images of her two West Highland White Terriers paired with words from Shakespeare, Mary Shelley, John Muir, Dostoyevsky and visual artists. The show features five books and prints inspired by their pages.
"Dogs humanize [and] bring out the best in people. I think we can laugh because it's a dog experiencing these things. But I think that we can laugh and also bring it very much close to our heart at the same time," Brodsky said. "I really believe that work should be compelling enough to make people not just leave the gallery and say 'Oh, good experience,' but perhaps take that work with them, absorb it to let them change their own values and to grow a little bit."
"Good Dog"
Pittsburgh Center for the Arts
6300 Fifth Ave.
Through Oct. 28
pittsburgharts.org
Pictured above is an image from one of Brodsky's newest books. The caption shares lines from Fyodor Dostoyevsky: "I'll sit here and drink ...and sing if I want to, yes, sing, for I have the right ...to sing ...H'm!