April 17, 2012
Travel Breaks
Faculty, Staff, Alumni Link Students With Short-term Study Abroad Opportunities
By Abby Simmons abbysimmons(through)cmu.edu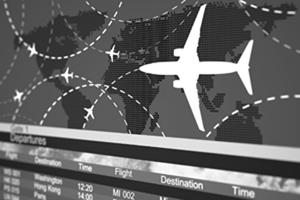 With fresh spring break memories and summer just ahead, travel is on many students' minds.
But, while some may be thinking of studying abroad, not all students have room in their schedule for a full semester away. Faculty and staff can assist these students in finding creative alternatives during academic breaks.
According to data published in November 2011 from the Institute of International Education, nearly 57 percent of U.S. students who studied abroad from 2009 to 2010 completed experiences lasting fewer than eight weeks during the summer or academic year.
Alysia Finger (TPR'13) and Christine Hedden (A'13) earned funding from a program for undergraduate women without international experience for trips to Italy and Ireland, respectively.
The Vira I. Heinz Scholarship Program for Women in Global Leadership annually selects up to three students at each of 10 participating Pennsylvania universities.
Jaycie Galbraith, coordinator of study abroad and international programming in the Office of International Education(OIE), said the program is facilitated by the University of Pittsburgh and funded through the Heinz Endowments. Participants attend leadership retreats, receive up to $5,000 for expenses and plan a community engagement experience when they return.
Hedden, a music composition and viola performance double major, studied Irish culture, music and dance at the University of Limerick. She jumped at the chance to take a course from a world-renowned Irish fiddler.
"It was absolutely amazing to hear Martin Hayes talk about music and perform," Hedden said. "He wasn't afraid to talk about things in music that are really important - like playing from your heart - things that I feel a lot of times in an intellectual world get looked over or taken for granted."
This summer, Leah Yingling (E'13) will study education in South Africa, and Natalie Severson (BHA'13) will study arts and culture in France through the program.
Spring Break Studies
Another path to short-term study abroad is through faculty-organized trips.
Naum Kats, undergraduate adviser and adjunct faculty member in the History and Modern Languages departments, returned from his fourth spring break trip for his Culture of St. Petersburg course.
"We are living in a global world, but we are villagers," Kats said. "Seeing people, talking to people helps to destroy stereotypes of the Cold War."
Steven Quinterno (E'13) said the trip, which also included a stop to Stockholm and its city hall, included visits to the former Russian capital's St. Isaac's Cathedral, the State Hermitage Museum, and the apartment of "Crime and Punishment" author Fyodor Dostoyevsky.
Kats said Galbraith and fellow study abroad coordinator Chris Menand were important resources for the trip. They helped students fill out paperwork, hosted a pre-departure orientation and promoted a post-trip presentation.
"We've posted a guide for faculty members interested in organizing international trips on OIE's website," Menand said. "It covers the behind-the-scenes work needed to organize the trip, make sure it qualifies for CMU credit and provides forms for gathering 'in case of emergency' information."
Grants Abroad
The Fellowships and Scholarships Office also offers funding for international experiences.
One of those programs is an extension of the Small Undergraduate Research Grant program called iSURG. Stephanie Wallach, assistant vice provost for undergraduate education and director of the Undergraduate Research and Fellowships and Scholarships offices (FSO), said students can apply for iSURG grants of up to $500 to conduct research while studying or traveling abroad.
The FSO also facilitates the Jennings Brave Family Companions Fund. Trustee Larry E. Jennings Jr. (S'84 TPR'87) and his wife, Katherine, established the fund to allow students to visit developing countries to study, travel, conduct research and volunteer during summers.
Last year, Kimberly Josephson (DC SHS'13) and Prisca Ohito (BHA'13) traveled to Argentina and Brazil, respectively.
Ohito said, "During those five weeks of travel, I volunteered to teach eight Brazilian young men supplementary English lessons. This experience certainly changed and sometimes reinforced ideas I had about national, gendered and class-based divisions."
The Jennings family increased its commitment in 2012 and will provide up to $6,000 for each of the following students' international experiences: Adelaide Agyemang (A'14), Ghana; Ashley Brienza (E'13), Zambia; Vivian Chang (SHS'13), Costa Rica; Sara Faradji (DC'13), South Africa; and Sara Mouhktar (DC'13), South Africa.