April 17, 2012
Slapshot Science
Fonseca Shares the Math Behind Hockey in Video Series
By Jocelyn Duffy jhduffy(through)andrew.cmu.edu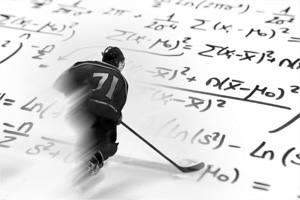 As the hockey playoff season begins, fans across Pittsburgh and Carnegie Mellon's campus will be tuned in to watch as the Pittsburgh Penguins battle for the Stanley Cup.
When Professor Irene Fonseca watches hockey, she sees things from a mathematical perspective.
National Science Foundation-funded researchers, including Fonseca, and National Hockey League (NHL) players are highlighting the scientific principles at play in "Science of NHL Hockey," a series of video tutorials produced by NBC Learn, the educational arm of NBC News, in partnership with the NSF. The videos use concepts in hockey to illustrate fundamental science.
In one video, Fonseca explains the role vectors play when two players pass the puck to one another, and in another she talks about how rink managers take mass, volume and density into account as they create the ultimate skating surface.
"Math is everywhere, but kids often think of math only in the context of classroom exercises. If we show kids that math is much more than pencils and paper - it's hockey or it's music - they'll be excited to learn more," said Fonseca, the Mellon College of Science Professor of Mathematical Sciences.
The videos first aired during NBC's coverage of the NHL All-Star Game in January, and are being shown on the NHL Network in the United States and Canada. They also appear during games on the Jumbotrons in select arenas throughout the league.
The series of 10 videos also are available for free at NBCLearn.com and Science360.gov, where they will eventually be accompanied by lesson plans developed by the National Science Teachers Association.
"Wayne Gretzky once said, 'The only way a kid is going to practice is if it's total fun for him' ... and it was for me," said Morris Aizenman, senior scientist for the NSF Directorate for Mathematical and Physical Science. "'Science of NHL Hockey' is an NSF and NBC Learn project that continues our effort to make science total fun for students. We hope, after watching these videos that students will also want to learn and practice science."