April 17, 2012
Q&A With Ryan Wolfe
Public Transportation Changes Will Impact Carnegie Mellon Community
By Heidi Opdyke opdyke(through)andrew.cmu.edu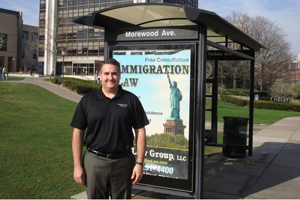 Ryan Wolfe, director of Campus Services, recently attended a Staff Council general body meeting to discuss Carnegie Mellon's rising use of public transportation and the impact of the proposed massive Port Authority Transit service cuts, expected to take place Sept. 2. The Piper caught up with Wolfe after the talk.
How will the proposed changes at the Port Authority Transit (PAT) affect members of the Carnegie Mellon community?
The proposed changes as they stand right now include an approximate 35 percent reduction in their system. They are proposing an elimination of 46 routes, all of which are currently used by staff and students.
In addition to the proposed 35 percent reduction, there's a general fare increase that will take place in July. While this does not directly impact our community members that use Port Authority services, it will have a negative impact on the Pittsburgh region.    
Obviously, the route eliminations are of the greatest concern to Carnegie Mellon. Ninety percent of our ridership is concentrated in about 20 routes. If you look at the 61s, 71s and a few others, that's a real big bulk of our ridership. Four of these top 20 routes, all heading east, are on the list for possible elimination.
The other concern is the 10 p.m. service stop time. Only five of our top 20 bus routes will continue to run after 10 p.m. under the proposed changes to PAT's schedule - 58, 61B, 69, 71A and 71D. Our shuttle and escort system ridership has been steadily increasing and is up 30 or 40 percent. The PAT reductions would put even further stress on that if there were essentially only five buses serving students after 10 p.m.
What is ridership like for Carnegie Mellon?
It has gone up over the years. Last year we were at almost 1.8 million rides, and I would expect our ridership to be at or above that this year. Between 2006 and 2011, we've had 30 percent growth.
Where is the impact going to be the worst?
Specifically, with 26 of the proposed 46 routes to be eliminated, the east would be especially hard hit. If you look at the proposed route and park-n-ride eliminations, it's going to cause a great deal of traffic to funnel into Wilkinsburg. It really would be a very challenging situation.
We are very concerned about that. From a parking resource standpoint we can't easily accommodate anymore parking than we have right now. We're looking at the idea of satellite lots, but that's in the very early stages.
We've had conversations with the University of Pittsburgh about what they're thinking about doing to prepare because Pitt is in a very similar situation. They have fewer parking places per capita than we do and they rely heavily on the Port Authority.
What are some of the important dates to know?
On April 18 the PAT Board of Directors is going to review the final committee proposal and vote on it. Then the full board is scheduled to meet on April 27 to vote on the fare increase and service reductions.
What is the university's service agreement with the Port Authority?
It's a five-year deal that ends July 31. Right now we're talking with them about a new five-year agreement. We're working to develop terms that are acceptable to both parties.
With a new agreement, will the university continue to pay for faculty and staff to ride for free?
Yes. To clarify, the students do pay a transportation fee, and the university through the benefits process funds faculty and staff participation. So while there is not an additional charge to the employee, there is money being collected centrally for both groups.
Is there anything people can do to be involved?
Based upon the turnout and conversation we had at the town hall meeting as well as other presentations around campus, it is clear that our community is aware and concerned. We will continue to communicate with both the Port Authority and the campus concerning the proposed cuts.
Whether or not you use PAT, a service reduction of this size will impact you. Please contact your local representative in Harrisburg, in the Senate or the House, and let them know your concerns via email or phone. All those messages start to add up.
The students are working with Government Relations and the Dean of Students to plan a trip to Harrisburg in early April to do a little lobbying on behalf of the university.
The comment period is already over, and we tried to do our best to get that message out there. I know we received more than 100 messages, and we will summarize those and share them with the university's Government Relations Office so they can use them in ways that would be beneficial to the cause.
Top 20
All of the top 20 Port Authority Transit routes used by members of the CMU community are being considered for service reductions or elimination. They include:
61D
61C
61A
61B
71B
71D
71A
54
71C
64*
28X
75
67
69*
P1
Light Rail
P3
82
58*
86
*indicates proposed elimination
Slides from Wolfe's Staff Council presentation are available at
www.cmu.edu/staff-council/news/2011-2012/PAT-update.html
Learn more about public transit from a two-part report produced by CMU Ph.D. Ellis Robinson, Kevin Brown and Daniel Tkacik for WRCT 88.3-FM at
http://transitradiopgh.wordpress.com
.