April 17, 2012
Library Named for "Renaissance Man" Roger Sorrells
By Bruce Gerson bg02(through)andrew.cmu.edu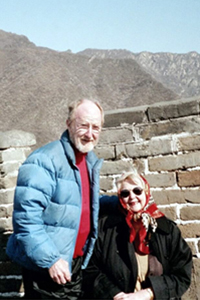 The Engineering & Science Library in Wean Hall has been named the Roger Sorrells Engineering & Science Library thanks to a generous gift from his longtime partner, Dean of University Libraries Gloriana St. Clair. Sorrells passed away last September.
"One of Roger's hobbies was visiting different universities all over the world - in China, India, New Zealand and the United States - to see their buildings and libraries. If he were walking around Carnegie Mellon now, he would walk into a library named after himself and see this wonderful recognition of his life in academia," St. Clair said.
The library pays tribute to the man St. Clair met in 1984 at Texas A&M University, where they developed a close bond, travelling together to work on many digital library projects.
A physicist and mathematician by training, Sorrells taught at San Antonio Collegeand Southwest Texas State University (now Texas State University) in San Marcos. He later pursued a Ph.D. in Computer Science at Texas A&M.
In 1978, Sorrells joined the Texas A&M Computing Center, where he eventually became head of the Help Desk, recruiting and training students to answer questions and solve problems. He was greatly admired by students, whom he assisted in troubleshooting their computer programs. For his exemplary service to the university, Sorrells received Texas A&M's President's Meritorious Service Award in 1991.
After retiring from A&M in 1992, he volunteered for the World Shakespeare Bibliography and railroaded frequently to Pennsylvania. When St. Clair joined Carnegie Mellon in 1998, he became involved in university activities, including the Million Book Project. St. Clair and Sorrells were founding members of CMU's Highlands Circle, a society honoring those who have given $1 million or more to the university.
Besides the World Shakespeare Bibliography, he worked with Mothers Against Drunk Drivers, Compassionate Friends and the Lions Club. He loved to bike, hike, spelunk and snorkel.
In an email announcing St. Clair's gift and the library dedication, Provost and Executive Vice President Mark Kamlet called Sorrells a "quiet, renaissance man who became a steadfast supporter of Carnegie Mellon."
The late Roger Sorells and Gloriana St. Clair visited libraries around the world.