April 17, 2012
Lecture Spotlight
Gardener To Offer Tips on Taming Wildflowers
By Heidi Opdyke opdyke(through)andrew.cmu.edu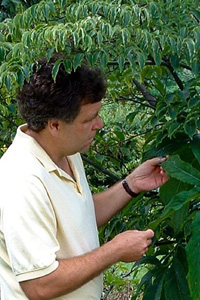 One way to spend your Earth Day is by learning more about plants in your own backyard.
Gardener John Totten will be delivering a lecture titled "Wildflowers in the home garden" at 2 p.m., April 22 at the Hunt Institute.
"Gardening with native plants can be not only of interest to gardeners, but even people who don't think of themselves as gardeners," Totten said. "To someone that enjoys the outdoors and wild places, the opportunity to live with these wild plants close at hand daily is a special treat."
Totten said that many homeowners are looking to make landscapes more sustainable and natives serve an important role in things such as rain gardens. He said it's important to know which plants would be found in similar conditions in the wild and called his most important tool a pair of hiking boots.
"This is what makes developing a landscape with native plants such an all-encompassing form of gardening. There is both art and science involved in this process of distilling, intensifying and translating the observations you make in the wild to your own backyard."
Plus, by growing native plants, they allow people to learn more about their region.
"That damp spot in the shade in the backyard can remind you of a floodplain forest you saw along Slippery Rock Creek, where you might have noticed how Virginia Bluebells flowered there in the spring and were followed by Turk's Cap Lilies in July," he said. "When we only grow geraniums or tomatoes we never develop this natural curiosity about the wild places around us, and we begin to be less connected and value wild places less."
Attendees will learn to evaluate their properties with an eye toward selecting suitable plants, purchasing them responsibly and growing them successfully.
"It is important to know that many vendors sell plants that are collected from the wild," Totten said. "This practice has decimated wild plant populations, many located on federal lands, and responsible gardeners should always insist on nursery-propagated natives that have spent their entire lives in a nursery setting. If this is not designated on the packaging, ask. If they don't know, go elsewhere."
He said two of his favorite places to purchase responsibly grown natives from nearby seed sources are the Audubon Center for Native Plants at Beechwood Farms in Fox Chapel and Sylvania Natives in Squirrel Hill.
Some of the groups Totten has consulted with include the Audubon Society, The Pittsburgh Zoo and Fallingwater.
"We all know that Fallingwater showcases the flora of the Laurel Mountains, but one of the best kept botanical secrets in Pittsburgh is the display of Western Pennsylvania plant communities at the Kids Kingdom of the Pittsburgh Zoo," Totten said. He said the gardens throughout the zoo have many beautiful examples of native plant combinations that urban and suburban homeowners can learn from. "If small children and pets can make gardening a challenge think about thousands of visitors and hundreds of hooves, beaks and paws."
Totten holds bachelor's and master's degrees from the University of Michigan's School of Natural Resources and the Environment. He is an adjunct faculty member in Chatham University's Landscape Architecture graduate program and Penn State University's Sustainable Landscape program. He also teaches classes in the Sustainable Horticulture and Landscape and Garden Design certificate programs through the Phipps Conservatory and Botanical Gardens.
The lecture is part of a series of free talks by the Hunt Institute on Pennsylvania's native plants as part of its current exhibit, "Native Pennsylvania, A Wildflower Walk."
Who:
John Totten  
What:
"Wildflowers in the home garden"
When:
2 p.m., Sunday, April 22
Where:
Hunt Institute for Botanical Documentation, fifth floor of the Hunt Library