April 17, 2012
Future Founders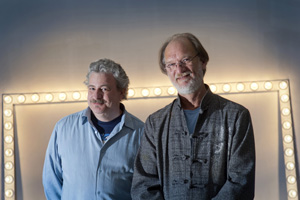 Jerry Coltin (far left), faculty adviser of the Master of Arts Management (MAM) Program, and Bob Bingham, professor and associate head of the School of Art, helped celebrate Future Tenant's 10th anniversary during its fundraiser on March 30 at Bakery Square, which featured the master of fine arts (MFA) students' exhibition "Extra Fancy."
Coltin and Bingham each had a hand in creating the downtown Pittsburgh art space known as Future Tenant, which is run by MAM students.
In 2002, MFA students in Bingham's "Contextual Practice" course worked with Murray Horne, curator of visual art for the Cultural Trust, to identify and name an art space. With the support of MAM students in management roles, the course successfully mounted a season of exhibits. Since then, the joint collaboration has continued with MAM students curating MFA exhibits among others and continuing to manage the space.
Future Tenant is a joint project of the Pittsburgh Cultural Trust, the College of Fine Arts and the Heinz College.