April 17, 2012
Award-Winning 
Educators Make Personal Connections
Faculty who exemplify the university's standards of excellence in education are recognized annually as part of the Celebration of Education, which this year will take place starting with a reception at 4:30 p.m., Wednesday, April 25 in Rangos 1 and 2 at the University Center. The events are free and open to the public.
The Celebration of Education consists of five main awards: The Ryan Award, The Barbara Lazarus Award and The Gelfand Award, presented annually, and The Doherty Award and The Academic Advising Award, given every other year. In addition, the most recent recipients of the College Teaching Awards, the Graduate Student Teaching Award and the Graduate Student Service Award also are honored.
Robert E. Doherty Award for Sustained Contributions to Excellence in Education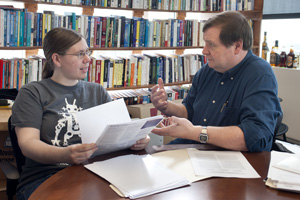 Mark Stehlik, assistant dean of undergraduate education in the School of Computer Science, is the recipient of this year's Robert E. Doherty Award for Sustained Contributions to Excellence in Education.
Stehlik has been "the heart and soul" of SCS's undergraduate program since its inception in 1988, said Randal E. Bryant, SCS dean. "He has taught introductory programming, advised over 2,500 students, served as the leader of our introductory programming education group, and been an inspiration to all of us."
The honor comes at a pivotal time for Stehlik, who this summer will begin a five-year stint as associate dean of education at Carnegie Mellon Qatar. He taught computer science at the Doha campus during stints in 2006, 2007, 2008 and 2011, and organized its annual high school programming contest.
Stehlik, who joined the faculty in 1982, has been a national leader in computer science education. He has been involved in the Advanced Placement Computer Science course from its inception in 1984, organized numerous training workshops for high school teachers and co-authored "Running on Empty," a 2010 study of the nation's neglect of computer science education.
As assistant dean, he is known for setting high educational standards, but also for making a personal connection with each student.
Henry DeYoung, who earned his bachelor's degree in 2008, noted Stehlik's office is famously crammed full of books. Yet, "Mark always has room for everyone," DeYoung said. "Even though only the front half of my wheelchair could barely squeeze between the stacks of books, Mark always had room for me, too."     
DeYoung, now a Ph.D. student, said Stehlik's knowledge of computer science and his insight into students make him an invaluable mentor. "Mark had the uncanny ability to guide my course selections toward the area of computer science in which I would eventually become interested," he recalled, "even before I could recognize that interest myself."
William H. and Frances S. Ryan Award for Meritorious Teaching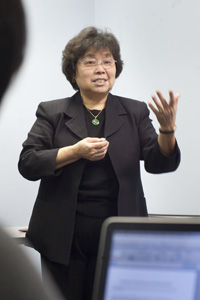 When Professor Yueming Yu joined the Carnegie Mellon faculty in 1992, she taught the Chinese language class offered by the Department of Modern Languages. Now, thanks to Yu's dedication to developing the program, the Chinese Studies Program has grown from an initial five students to more than 500, with both a major and minor available.     
For her role in establishing Chinese Studies at CMU and for her excellence in the classroom, Yu has won the 2012 William H. and Frances S. Ryan Award for Meritorious Teaching.
"Yueming Yu has established the foundation of our successful Chinese program and has played a key role in cultivating its extraordinary strength," said Susan G. Polansky, head of the Modern Languages Department. "Yueming's passion and dedication have been major factors in our explosive growth. She has found effective ways to teach complex material while guiding her students to accomplish their best results."
Yu has taught all levels of Chinese classes over the past 16 years — from elementary to advanced and two special fourth-year offerings: Topics of Contemporary Culture of China and Studies in Chinese Traditions. In addition to teaching, Yu coordinates the Chinese program, designing the curriculum and developing syllabi and teaching materials. She also has been the adviser to Chinese minors since 1998 and majors since 2005.
Her students — current and former — uniformly praise Yu for her teaching manner and effectiveness, as well as for her roles as a mentor and adviser. In 2010, she won the Dietrich College of Humanities and Social Sciences Elliot Dunlap Smith Award for Distinguished Teaching and Educational Service.
"Thanks to Yueming Yu's dedication to program development and her expert teaching, Carnegie Mellon now boasts one of the largest programs in Chinese in the eastern United States," said Christian Hallstein, director of undergraduate studies for the Department of Modern Languages.
Barbara Lazarus Award 
for Graduate Student and Junior Faculty Mentoring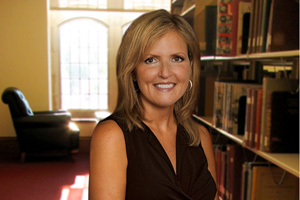 Lofty goals: pursued and achieved.
That has been a decade-long mantra for Dena Haritos Tsamitis, the scrappy, sharp-eyed innovator who turned a fledgling Information Networking Institute (INI) into an educational leader and academic home to happy, thriving Carnegie Mellon students and alumni worldwide.
Perhaps that's why this Pied Piper of student dreams and success stories was chosen as the 2012 recipient of the Barbara Lazarus Award for Graduate Student and Junior Faculty Mentoring.
Not only does she build relationships and cultivate a sense of community, INI alums say she is a leader when it comes to the art of decision-making.
"Although I graduated almost three years ago, I still go back to my emails from Dena to give myself rejuvenated confidence and enthusiasm to make the most of my life," said Aditi Pendharkar, (INI'09), a senior business consultant for London-based Grant Thornton.
And the formula of success continues to grow. Students, alumni and junior faculty praise Tsamitis for leading interdisciplinary technology programs in a department that continues to distinguish itself by the quality of its students and faculty and its caring mentorship of minority and women students.
It is not uncommon for her to pen notes or inquire about the health of a 
student's family. "She was the first person to call after my mother's kidney surgery," said Tyelisa C. Shields (INI'10). "She continues to make a difference."
Alumni and students from the United States, Portugal, Rwanda, Greece and Japan echo those sentiments.
Making things happen is a daily ritual. Like a high-speed sunrise, 
Tsamitis works tirelessly to guide and help students, alumni and junior faculty push their limits.
Pradeep K. Khosla, dean of the College of Engineering and the Dowd University Professor, praised Tsamitis for her positive influence.
"She emulates what it means to be a mentor, and she instills leadership qualities in students and alumni through her dedicated and personal involvement," Khosla said.
Mark Gelfand Service Award for Educational Outreach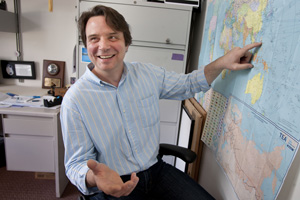 Not every teacher sends students to the Cook Islands, Sri Lanka or the Pittsburgh Food Bank for assignments.
But that's what makes Joseph Mertz, an associate teaching professor in the Heinz College and the Dietrich College, this year's winner of the Mark Gelfand Service Award for Educational Outreach.
Since 1998, Mertz has taught "Technology Consulting in the Community," a course in which nearly 400 students have helped nearly 300 nonprofit organizations, schools and businesses in the Pittsburgh region.
Similarly, Mertz directs an international program, "Technology Consulting in the Global Community" (TCinGC), that has sent dozens of students to help government ministries and nongovernmental organizations in developing countries improve strategic uses of technology.
Kathryn McKissick (HNZ'08)worked with Ashesi University College in Ghana and conducted a needs analysis with the United Nations Development Program's Equator Initiative.
"This willingness, on Professor Mertz's part, to go above and beyond just being a professor to his students, is what sets him apart. Not only is he a fantastic teacher, but he actually cares about the world. He walks the walk. 
He is willing to give his time and energy to students who elicit his expertise," 
she said.
Brandon Loughery (HNZ'09) worked as a student consultant for the Ministry of Health in Palau and as a nonprofit partner when he was the Pittsburgh Food Bank's IT Outreach Coordinator.
"Joe's program and mentorship has had an enduring and positive impact not only on my academic life, but in my professional and personal life as well," Loughery said.
Steven Andrianoff, an associate professor at St. Bonaventure University in New York, said Mertz was an inspiration for starting his own consulting class.
"I have no doubt that Joe's efforts have had a positive impact on hundreds of Carnegie Mellon students," Andrianoff said. "I attest to the positive impact his work has had on me, on St. Bonaventure University students, on community leaders in the greater Olean area and on St. Bonaventure University as a whole."
The College Teaching Awards
Below are the College Teaching Award recipients recognized in 2012.
Carnegie Institute of Technology
Benjamin Richard Teare, Jr. Teaching Award
James F. Hoburg
Professor, Department of Electrical 
& Computer Engineering
College of Fine Arts
Henry Hornbostel Teaching Award
Ingrid Sonnichsen
Associate Teaching Professor, 
School of Drama
The Dietrich College of 
Humanities & Social Sciences
Elliott Dunlap Smith Award for 
Teaching and Educational Service
Bonnie L. Youngs
Teaching Professor of French, 
Department of Modern Languages
The H. John Heinz III College
Martcia Wade Teaching Award
Wilpen L. Gorr
Professor
Mellon College of Science
Julius Ashkin Teaching Award
Danith H. Ly
Associate Professor, Department 
of Chemistry
Richard Moore Award for Sustained and Substantial Contributions to Education
Jonathan Minden
Professor, Department of Biological Sciences
School of Computer Science  
Herbert A. Simon Award for Teaching Excellence in Computer Science
David Kosbie
Assistant Teaching Professor, 
Department of Computer Science
Tepper School of Business  
Gerald L. Thompson Teaching Award in the B.S. Business Administration Program
David Tungate
Associate Teaching Professor of Law

M.B.A. George Leland Bach 
Excellence in Teaching Award
Willem-Jan van Hoeve
Assistant Professor of Operations 
Research

Yueming Yu lectures in one of 
her classes.

Meg Richards (CS'08), now a web developer for the university, talks with Mark Stehlik.

Dena Haritos Tsamitis cultivates a sense of community at the Information Networking Institute.

Joe Mertz offers local and international technology consulting programs to help students and nonprofit organizations.