April 12, 2012
Carnegie Mellon Concert Choir To Join PSO in Celebration of Broadway, April 12-15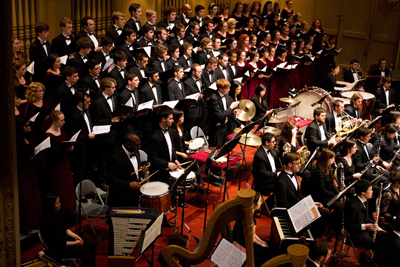 The Carnegie Mellon Concert Choir will appear with the Pittsburgh Symphony Orchestra this week at Heinz Hall in PNC Pops concerts celebrating the much-beloved music from the Broadway hits "Miss Saigon" and "Les Misérables."
 
The concerts begin at 7:30 p.m., Thursday, April 12; 8 p.m., Friday, April 13, and Saturday, April 14; and 2:30 p.m., Sunday, April 15. Tickets, ranging from $20-$95, can be purchased by calling the Heinz Hall box office at 412-392-4900, or visiting the PSO at www.pittsburghsymphony.org. CMU faculty, staff and students can recieve a discount at www.pittsburghsymphony.org/cmutix.
 
The Concert Choir, under the direction of Robert Page, will offer stunning vocals to accompany the PSO's performance. The PSO, under guest conductor Jack Everly, will perform blockbuster songs, including "Bring Him Home," "I Dreamed a Dream," "One Day More" and the unforgettable chorus "Do You Hear the People Sing?"
The program also features the "Miss Saigon" hits "The American Dream" and "I'd Give My Life for You."
Wind Ensemble and Chamber Orchestra Concert Features Balada Compositions
Carnegie Mellon's Wind Ensemble and Chamber Orchestra wil perform in concert at 8 p.m., Wednesday, April 18 at Carnegie Music Hall in Oakland.
The concert features two compositions by faculty member Leonardo Balada, including his "Concerto for Cello and Nine Players" and the American premiere of his "Viola Concerto."
Tickets are $5 in advance ($4 for seniors and students with ID) and $7 at the door ($5 for seniors and students with ID). For more information and to purchase tickets, go to http://music.cmu.edu/index.php?sub_page=events&event_id=1362