September 29, 2011
Silicon Valley Hosts "TechWomen," a Secretary of State Initiative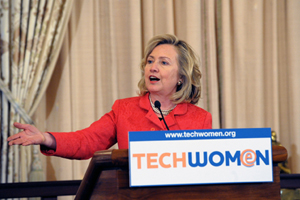 A mentor can make a difference.  
Carnegie Mellon's Silicon Valley campus participated in TechWomen, an initiative of Secretary of State Hillary Rodham Clinton that uses technology and international exchanges to empower women and girls worldwide.
The program brought 37 women from Algeria, Egypt, Jordan, Lebanon, Morocco and the Palestinian Territories to the United States for five weeks at two dozen technology companies including Cisco Systems, Ericsson, Facebook, Google, Yahoo! and Intel Corp. Carnegie Mellon was the sole academic institution to participate as a technical mentor in 2011.
"I was extremely excited to be selected to visit the U.S. and Carnegie Mellon University's Silicon Valley Campus," said Lamia Ben Hiba, a Ph.D. student from Morocco. "The CMU professors are so helpful as I begin the long road of publishing my own research results."
Later this year, U.S. mentors will travel to the Middle East and North Africa to conduct workshops for women in the technology sector and young girls who have expressed an interest in pursuing a tech-based career.
During the program, Ben Hiba and her peers met business and technical leaders in Silicon Valley and worked on projects ranging from the use of social media in national disasters to entrepreneurial-based themes.
Ben Hiba said her trip to the United States will help her promote a "Girls In Technology" program that she supports in Morocco.
"I was amazed at both the diversity and friendliness of the people in Silicon Valley," she said. She said her goal is to be a researcher and a problem solver. "I received a lot of great encouragement from Carnegie Mellon professors."
The Silicon Valley campus hosted a reception for the mentees to meet faculty and other students, discuss their research interests and explore possible future collaborations.
"This is a wonderful program because it gives a chance for technical women in the United States to build relationships and advance and empower rising technical women leaders in Muslim countries," said Jeannie A. Stamberger, associate director of the Disaster Management Initiative at Carnegie Mellon Silicon Valley.
The mentees completed their U.S. tour with a trip to Washington, D.C., 
a front row seat to the city's traditional July 4 holiday celebration, a White House tour and a full day of meetings at the U.S. State Department. Secretary Clinton delivered remarks at a closing luncheon for the program.

U.S. Secretary of State Hillary Rodham Clinton delivers remarks at 
a closing luncheon for the TechWomen Initiative in Washington, D.C.