September 29, 2011
Snowy Days, Dark Knight(s)
Staff, Students Experience Hollywood in Pittsburgh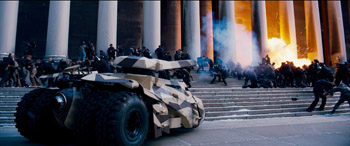 When Pittsburgh became Gotham City and summer turned to winter, Carnegie Mellon staff and students were part of the once-in-a-lifetime transformation. 
For the final film in Christopher Nolan's Batman trilogy, "The Dark Knight Rises," several scenes filmed 
on campus at the Mellon Institute and near the Software Engineering Institute (SEI) were covered with fake snow.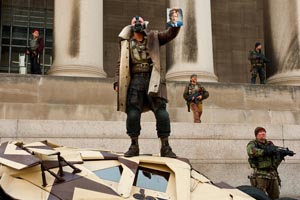 George Papuga, a maintenance manager for Facilities Management Services, worked with Nolan, Special Effects Supervisor Chris Corbould and the production crew for scenes shot at Mellon Institute and the SEI.
"I can't say enough about how gracious, understanding and accommodating they were," Papuga said. "They had demands, but they weren't demanding. They had about 100 requests and I only had to say no to about two of them. They understood the history of Mellon Institute and how important the building is to us."
Papuga, who also worked with production crews for scenes shot at CMU for "Hoffa" and "Mothman Prophecies," said it was a thrill meeting Christian Bale and Anne Hathaway. "It was really something to be a part of," he said.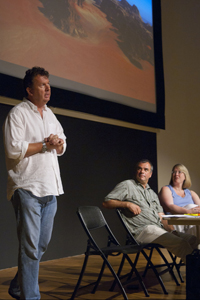 John Mark (A'13) was one of about a dozen CMU students who served as production assistants. He started as a street ambassador in July and ensured fans did not walk on the set. When 
Location Manager Ilt Jones asked 
workers to remove "no parking" 
notices, Mark was the only person 
who had a pocketknife.
"I told him that if you show up 
to a crew call at the School of Drama without your utility knife, you're in trouble," Mark said.
Jones was so impressed he offered Mark a position for the duration of 
filming in Pittsburgh.
Among other duties, Mark worked with Mary Stein (A'13) to direct parking and shuttles for 10,000 extras at Heinz Field.
"The work was rigorous," Stein said. "I met some great people in the film industry, and the opportunity helped me make contacts for the future."
Jeff Balmert, a document production specialist at the SEI, was a paid extra in the film through the Nancy Mosser Agency. Balmert played a Gotham Rogues football fan for two 16-hour days at Heinz Field.
"It was awesome sitting in the front row at Heinz Field and interacting with Director Christopher Nolan and Cinematographer Wally Pfister, and seeing them operate the IMAX camera to catch fan reaction," said Balmert, who also was excited to see many of the scenes shot at the SEI and Mellon Institute.
Balmert, a graduate 
of the Entertainment Technology Center, has been in several movies shot in Pittsburgh and credits the city's film tax credit and its unique landscape of rivers, bridges and hills for attracting the film industry. In addition to "Dark Knight Rises," Balmert was in "The Next Three Days" with Russell Crowe, "Abduction" with Taylor Lautner, "She's Out of My League" and "My Bloody Valentine."
Ling Qu (E'12) was one of 10 CMU students who worked as extras. He played a newspaper reporter.
"Although the shooting process is slow — I spent 14 hours on set for about one minute of film time — it was something that I never experienced before," Qu said.
Pre-College Program students attended an exclusive panel discussion with Jones, Extras Casting Director Tammy Smith, Assistant Location Manager Kent Jackson and Corbould, who won an Oscar for his work on "Inception." In addition, their resumes include work on "Transformers," "Men in Black" and 12 James Bond films.
Panelists spoke about how they entered the field, whether it was straight out of college or previously working as a stock market analyst. They also shared some of the not-so-glamorous, but necessary, tasks they complete on location.

Pictured above:
A scene from Warner Bros. Pictures' and Legendary Pictures' action thriller "The Dark Knight Rises," a Warner Bros. Pictures release. TM & © DC Comics.
Photo courtesy of Warner Bros. Pictures
Tom Hardy as Bane in Warner Bros. Pictures' and Legendary Pictures' action thriller "The Dark Knight Rises," a Warner Bros. Pictures release. TM & © DC Comics.
Photo by Ron Phillips
Location Manager Ilt Jones, Special Effects 
Supervisor Chris Corbould and Extras Casting 
Director Tammy Smith told stories about making 
movies for pre-college program students in August.