September 08, 2011
Rwanda President Speaks at CMU Friday, Sept. 16; CMU To Help Rwanda Become East Africa's Leader in Information and Communication Technology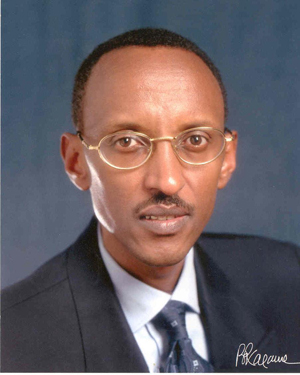 Faculty, staff and students are invited to attend a keynote address by
Paul Kagame
, president of the Republic of Rwanda, at 5:15 p.m., Friday, Sept. 16 in Rangos Ballroom, UC. President Kagame will speak about Rwanda's strategy for continued growth in the global economy and its plans to become East Africa's leader in information and communication technology. Under President Kagame's leadership, Rwanda has become one of the world's most compelling stories of economic development.
In addition, President Kagame and CMU President
Jared L. Cohon
will be making an important announcement regarding the collaborative role that Carnegie Mellon will play in helping Rwanda to realize its vision.
If you plan to attend, please RSVP by Wednesday, Sept. 14 to
govrel@andrew.cmu.edu
and indicate the number of people attending in your party. Doors open at 4 p.m. and all attendees must be seated in Rangos Ballroom by 4:45 p.m. A partnership ceremony will take place at 5 p.m., just prior to President Kagame's address.
Read more:
http://www.cmu.edu/event/rwanda
Pictured is Paul Kagame, president of the Republic of Rwanda.