September 29, 2011
CMU To Submit PIttsburgh Campus Master Plan for City Approval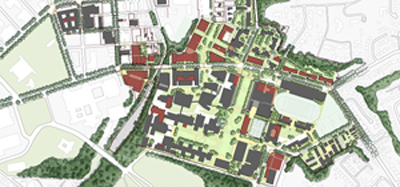 After 16 months of development and approximately 80 meetings with campus groups, neighborhood organizations and residents, Carnegie Mellon will submit its 10-year master plan for the Pittsburgh campus to the City of Pittsburgh tomorrow (Friday, Sept. 30) to begin a months-long review and approval process. The plan will be reviewed by the Department of City Planning, the Planning Commission and City Council, and several public hearings regarding the plan will be held. It is hoped the plan will be approved by the end of March 2012.
The master plan is a set of blueprints that will guide development of the Pittsburgh campus through 2022. The City of Pittsburgh Zoning Code requires all universities and hospitals to submit a new master plan for city council approval every 10 years. These plans become a legal zoning document for any new building projects and enables projects in the plan to proceed along a streamlined review process.
The plan aims to maximize areas of opportunity, including recently acquired properties along Forbes Avenue toward Craig Street and to continue to establish connections between campus and university sites in Oakland. The plan also proposes creating a more pedestrian-friendly Forbes Avenue by reducing Forbes to one lane of traffic in each direction between Margaret Morrison St. and Craig St. Bicycle-only lanes would be added on Forbes along with wider sidewalks and additional trees. Modified traffic signals and signage would encourage and direct pedestrians to use designated street crossings.
"One of the visions of the plan is that Forbes becomes the 'Main Street' of campus, rather than a highway dividing the campus," said
Bob Reppe
, director of design for Campus Design and Facility Development at CMU. "The center of campus would be configured much like a traditional town square and serve as an entrance to the university."
You can download the plan from the Campus Design and Facility Development website at
http://www.cmu.edu/cdfd.