September 29, 2011
Drama Opens Season With "Good Person of Setzuan"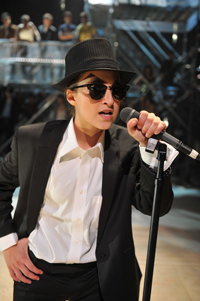 The School of Drama opens its 2011-12 season with Bertolt Brecht's "Good Person of Setzuan," Oct. 6- 15 in the Philip Chosky Theater. The show explores the notion of good and evil when three gods arrive on earth in search of one "good" person.

Adapted by Tony Kushner from a translation by Carnegie Mellon's own Wendy Arons, the performances will be directed by internationally renowned German director Peter Kleinert, with musical direction by Jürgen Beyer. Arons is an associate professor of dramatic literature in the School of Drama.

Read more: http://www.cmu.edu/news/stories/archives/2011/september/sept28_goodpersonofsetzuan.html

For show times and tickets, go to http://www.drama.cmu.edu/calendar/view_dates/event:23
Pictured is Ava DeLuca-Verley, who plays SHEN TE. Photo by Louis Stein.