September 22, 2011
Personal Mention

Martin Gaynor,
the E.J. Barone Professor of Economics and Health Policy at CMU's Heinz College, will serve as chairman of the governing board of the new Health Care Cost Institute (HCCI), an unprecedented health research initiative that will offer new insights into health care costs, utilization and intensity. Gaynor will oversee HCCI, an objective, independent and nonprofit entity that provides researchers with access to comprehensive data sets of commercial costs and utilization, and conducts its own research. Read more:
http://www.cmu.edu/news/stories/archives/2011/september/sept20_martingaynor.html
Alex Hills,
distinguished service professor of engineering and public policy and electrical and computer engineering, has authored the recently released "Wi-Fi and the Bad Boys of Radio." The book is about Hills and his small team of Carnegie Mellon innovators who built "Wireless Andrew," the network that would become the forerunner to today's ubiquitous Wi-Fi. Hills will sign his book during a "Luncheon Book Launch" from noon to 1 p.m., Tuesday, Sept. 27 in the Dilks Library in the Roberts Hall of Engineering. For more about the book and to purchase a copy, go to
http://www.dralexhills.com/

Mechanical Engineering Professor
Paul S. Steif
has penned a new dynamic textbook for engineering students. The book, "Mechanics of Materials," published by Pearson, is visually appealing and filled with depictions of everyday experiences with simple objects designed to help students grasp major engineering concepts with ease and agility. The book helps students relate engineering concepts to many real-world engineered systems. Read more:
http://www.cmu.edu/news/stories/archives/2011/september/sept21_steifpenstextbook.html

English Professor
Linda Flower
and Associate English Professor
James Wynn
will participate in a professional writing symposium, titled "Engaging the Public: Rhetoric and Professional Writing in the 21st Century," at Washington & Jefferson College on Saturday, Oct. 1. Flower will give a keynote address on "Leadership and the Professional Writer: Calling a Community Think Tank." Wynn will be a panelist in a discussion of the "Rhetoric of Science." For more on the symposium, go to
http://wiki.washjeff.edu/display/JHS/Home
During invited visits to several universities in and around Chennai, India,
Raja Sooriamurthi
, associate teaching professor of information systems, conducted workshops and gave talks on an emerging pedagogical approach to problem solving and critical thinking termed "Puzzle-Based Learning."  Sooriamurthi ran a half day workshop on "Puzzle-Based Learning Paradigms" for 200 faculty and students of B.S. Abdur Rahman University; a half-day workshop on "PBL and Software Development" to information technology master's degree students of the joint CMU ISR/SSN School of Advanced Software Engineering; and a talk on the "Pedagogy of Puzzle-Based Learning" to faculty of the SSN College of Engineering.
Junior chemical engineering major
Rocio Garay
recently participated in Latinos on Fast Track, a program of the Actionable Leadership Summit of the Hispanic Heritage Foundation in Washington, D.C. Fifty students from across the U.S. took part in roundtable discussions on several topics, including how to bridge the educational gap and improve opportunities for students in poor Hispanic communities.
Two students made their television debuts this week.
Ethan Crystal
(A'15) performed with his high school a cappella group, "Soul'd Out," on NBC-TV's "The Sing-Off," and
Michael Dunn
, a Heinz College student in entertainment management, appeared on the premiere of "The X Factor." He was part of a singing group called "Blackout."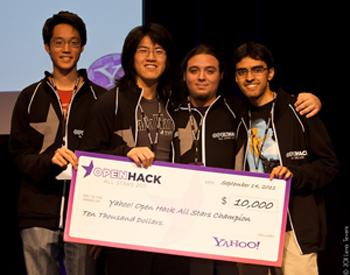 A team of Carnegie Mellon undergraduates created a prototype file-sharing tool in just 24 hours at the Yahoo! Open Hack All-Stars event Sept. 13-14 in New York City, winning the inaugural Hack All-Stars competition and $10,000. Members of the team, which won the 2009 HackU at Carnegie Mellon, are computer science majors
Amos Yuen
and
Chong Xie
, electrical and computer engineering major
Arjuna Hayes
, and art major
Ethan Gladding.
All are juniors. Read more:
http://www.cmu.edu/news/stories/archives/2011/september/sept20_yahooallstars.html