September 15, 2011
Remembering 9/11: President Cohon Recalls CMU's Response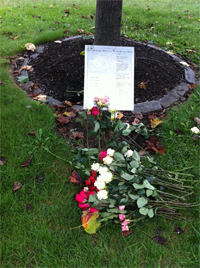 In his remarks during last Sunday's ceremony commemorating the 10th anniversary of 9/11, Carnegie Mellon President Jared L. Cohon recalled how the university community responded.

"The response of our faculty and staff was extraordinary, not surprising, for those of us who know this campus, but extraordinary nevertheless. And the response of students was something that we were all proud of, and something that we've come to realize as characteristic of this campus community. Reaching out for each other, support for each other, the candlelight vigils at the fence and gathering at the fence in other ways as well. It was reaffirming and something, as I said, we are very proud of."

While 9/11 has made it much more challenging for international students to obtain visas, Cohon noted that CMU is "more international today in every respect than we were 10 years ago, including a campus in the Middle East." He said diversity is very important to the university community and something that the institution stands for.

President Cohon said CMU is working to train and prepare leaders for the future, people who will be able to respond effectively to situations like 9/11, and leaders who will help unify America. "I think we are well prepared here at Carnegie Mellon to create such leaders, but only time will tell," he said.

In closing President Cohon read the names of the seven alumni who perished that day. They were Lawrence Kim HS'97, Frederick Kuo Jr. E'69, Gary Lasko TPR'65, Alan Linton TPR'97, Norma Lang Steuerle HS'69, Jonathan Uman TPR'90, and Matthew D. Yarnell HS'97.
Their names and a poem by English Professor Jim Daniels, titled "Us Now," are inscribed on a plaque in front of the 9/11 Memorial Tree on the Cut.

"We will never forget them," Cohon said.
Above: Flowers were placed at the base of the 9/11 Memorial Tree this past Sunday on the 10th anniversary of 9/11.