September 28, 2011
Phenomenal
Trustee's $265M Pledge Largest Ever At CMU
Businessman, scholar, philanthropist and longtime Carnegie Mellon trustee William S. Dietrich II thinks CMU is a "special place."
So much so that he and other CMU officials announced his plans to provide a record-breaking gift of a $265 million fund to support CMU — the largest gift in CMU's history and one of the 10 largest by an individual to a private higher education institution in the United States. It is believed to be the 14th largest gift to higher education worldwide.
"I have always valued education, and have never stopped learning, and it is hard not to be in awe of what happens on this campus," he said during a Sept. 7 announcement.
The historic bequest will support the entire university and names the College of Humanities and Social Sciences the Marianna Brown Dietrich College of Humanities and Social Sciences after Dietrich's late mother, a homemaker who inspired and supported Dietrich throughout his life.
Carnegie Mellon President Jared L. Cohon called the gift "phenomenal" among several superlatives — taking inflation into account, it's larger than the Andrew Carnegie gift that founded the university in 1900 — and said it will benefit the entire university allowing CMU to extend its global impact.
"Bill understands the special character of Carnegie Mellon with the unique ability of our faculty to work collaboratively at the intersections of science, technology, art, humanities, business and policy," Cohon said. "This remarkable gift will give us the resources to enhance and extend those collaborations, expand the university's impact in the world and enrich the education of our students."
"A Special Place"
Dietrich said he is making this landmark gift to the university because of its global approach and the quality of its faculty and students, who bring interdisciplinary thinking and complex problem-solving strategies to real-world problems.
"A gift that enhances educational opportunities creates a multiplier effect for our communities and our country — in other words, it is a mode of giving that leverages a gift to achieve its maximum effectiveness," Dietrich said.
"Serving as a trustee of Carnegie Mellon convinced me that Carnegie Mellon is not only a great university, but that it is an important driver of the future success of this region and its citizens. I have seen first-hand how Carnegie Mellon has maintained the same 'can-do' spirit and multi-disciplinary approach to problem-solving that was part of its founding, and that it is one of a handful of universities in the world that has the potential to become a truly global institution. All of this makes Carnegie Mellon a great investment.
"This university puts Pittsburgh on anybody's world map of great research cities," Dietrich added. "Brilliant people come here as students and faculty, and their presence in our community adds something extraordinary. They attract firms like Google and Intel, they create new companies and new ideas. They add to the city's vibrant artistic and cultural life. They win Tonys and Oscars and Nobel prizes. They never stop exploring. They never stop looking for a better way to do something, and they never stop working to make things better tomorrow than they are today."
Ray Lane, chairman of CMU's Board of Trustees and general partner of Kleiner, Perkins, Caufield and Byers, equated Dietrich with the likes of famous Pittsburgh entrepreneurs.
"Imagine a period of time when Andrew Carnegie, the Mellons, George Westinghouse, Henry Frick and Henry Heinz all walked the streets of Pittsburgh. Had it not been for the generosity of those successful entrepreneurs, Pittsburgh today would be a mere shadow of itself," said Lane, who noted that he recently received a copy of Dietrich's book "Eminent Pittsburghers," which discusses Pittsburgh's Golden Age (1870-1910) when the city was a "seething cauldron of entrepreneurial activities."
"Today we're witnessing history repeated as we are the ones that can claim to know Bill Dietrich, another great entrepreneur who walked the streets of Pittsburgh," Lane said.   
Inspire Innovation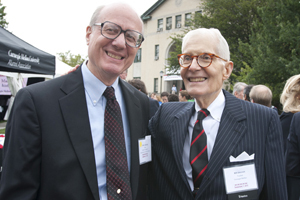 Dietrich's gift brings the Inspire Innovation: The Campaign for Carnegie Mellon University total to approximately $950 million, which is 95 percent of the campaign's $1 billion goal.
Ed Frank, a Silicon Valley executive, CMU trustee and alumnus, and chairman of the capital campaign, added his thanks for the gift.
"The top research universities in the United States play a vital role in addressing the challenges facing our country and the world. As such, I believe they are one of the best philanthropic investments an individual can make, especially Carnegie Mellon, which is a uniquely creative institution," Frank said. "I'm certain that Bill's magnificent gift will inspire all who work at Carnegie Mellon to even greater achievement and all who contribute to Carnegie Mellon to even greater support."
Dietrich: "Luck and Pluck" Key to Success
Dietrich, who said he earned his success through "luck and pluck," is the former chairman of Dietrich Industries, Inc., a subsidiary of Worthington Industries, Inc., and a trustee of the Dietrich Charitable Trusts.  Dietrich transformed Dietrich Industries into the nation's largest manufacturer of light metal framing — commonly known as steel studs — for the construction industry before selling the company to Worthington Industries, Inc., in 1996.  He remained a director at Worthington Industries until 2008.
A former U.S. Marine, Dietrich holds a bachelor's degree from Princeton University and master's and doctoral degrees from the University of Pittsburgh. In terms of civic service, Dietrich's commitment to Western Pennsylvania is remarkable. He has served actively on the boards of many regional institutions, including Carnegie Mellon, the Carnegie Museum of Art, the Allegheny Conference on Community Development, the Greater Pittsburgh Council of the Boy Scouts of America, Chatham University, the Pittsburgh Ballet Theatre, the Pittsburgh Symphony Society, the Southwestern Pennsylvania Growth Alliance, UPMC Health System and the University of Pittsburgh.
Along with "Eminent Pittsburghers," he is the author of "In the Shadow of the Rising Sun: The Political Roots of an American Economic Decline."
Top Photo: CMU trustee William S. Dietrich II receives a standing ovation after announcing a $265 million gift.
Middle Photo: Dietrich College Dean John Lehoczky poses with William S. Dietrich II.

Bottom Photo: Mohammed Janahi, student body president of Carnegie Mellon Qatar, cuts a cake at a celebration acknowledging Dietrich's gift.