September 29, 2011
President Obama Visits NREC To Tout New Manufacturing Initiative
Gary Fedder 
To Lead CMU's Involvement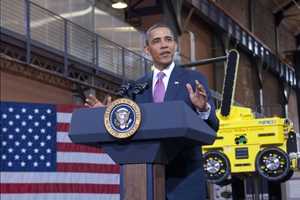 In his third visit to Carnegie Mellon, and second as U.S. president, Barack Obama launched a major manufacturing initiative in June from the National Robotics Engineering Center in the Lawrenceville neighborhood of Pittsburgh.
The initiative — the Advanced Manufacturing Partnership (AMP) — brings together industry, universities and the federal government to invest in the emerging technologies that will create high quality manufacturing jobs and enhance U.S. global competitiveness.
The partnership will be led by Andrew Liveris, chairman, president, and CEO of Dow Chemical, and Susan Hockfield, president of the Massachusetts Institute of Technology. Gary K. Fedder, director of the Institute for Complex Engineered Systems, is Carnegie Mellon's technical lead on a committee of university faculty who will be working with the AMP.
The AMP was developed based on the recommendation of the President's Council of Advisors on Science and Technology (PCAST), which released a report entitled "Ensuring Leadership in Advanced Manufacturing." The PCAST report calls for a partnership between government, industry and academia to identify the most pressing challenges and transformative opportunities to improve the technologies, processes and products across multiple manufacturing industries.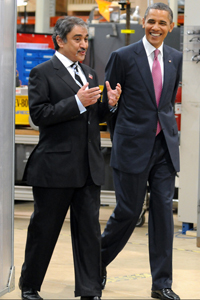 The AMP is made up of what the President called some of the "most advanced engineering universities, like Carnegie Mellon, Georgia Tech, Stanford, Berkeley, Michigan and innovative manufacturers, from Johnson & Johnson to Honeywell, Stryker to Allegheny Technologies."
Prior to his speech, Obama was shown several projects include RedZone Robotic's sewer patrolling robot. He was accompanied by College of Engineering Dean Pradeep Khosla and Erica Fuchs, an assistant professor in the Department of Engineering.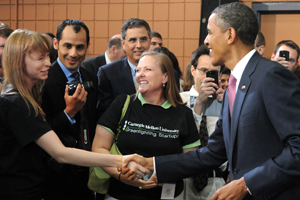 This was Obama's third trip to Carnegie Mellon, all of which have occurred in June. He visited in 2010 for an address in Wiegand Gymnasium on the economy. In 2008, then Sen. Obama spoke and hosted a summit at CMU on ensuring United States' competitiveness in the global economy. The summit brought together economic, educational, community-based and industry leaders to discuss the challenges facing the workforce and to craft solutions for the 21st century.

Photo Top Right: President Barack Obama highlighted the importance of manufacturing in the U.S. economy at the NREC in June.


Photo Middle Left: President Obama was accompanied 
by Pradeep Khosla during a tour 
of several robotic projects.


Photo Bottom Right: President Obama shakes hands with design student Rachel Inman as 
Holly Hippensteel, assistant dean of student affairs, looks on.