September 28, 2011
Expanding the Idea of Art
Q&A: Astria Suparak Brings National Attention to Miller Gallery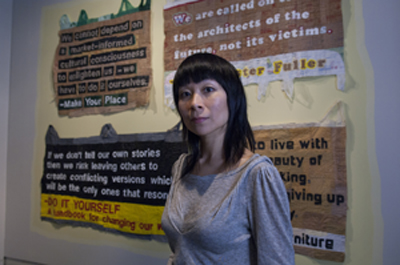 Since 2008, Astria Suparak has been curating cutting-edge, interdisciplinary exhibitions and events at Carnegie Mellon's Miller Gallery.  There, installations, paintings, sculpture, electronic arts, and other works that defy category bring the three-story art space alive.
This fall, Suparak is a co-curator of the Pittsburgh Biennial, premiering five new installations at the Miller Gallery. Setting a new precedent for city-wide collaboration among major art institutions, the Pittsburgh Biennial is co-organized by the Carnegie Museum of Art, the Miller Gallery at CMU, The Andy Warhol Museum, and Biennial founders Pittsburgh Filmmakers and the Pittsburgh Center for the Arts.
Amidst her busy schedule, the Piper caught up with the Miller Gallery director to discuss her role and the exciting new exhibit.  
What is your role as gallery director?
I'm responsible for the stewardship, management and curatorial programming of Carnegie Mellon's contemporary art gallery.
Who curates the exhibitions?
I curate about half of the exhibitions and select guest curators for others. Creating most of the exhibitions in-house has helped us achieve one of my goals since arriving at CMU: To create a strong identity for the gallery through relevant and unique programming. I see the role of the gallery as advancing the university's mission and vision, focusing on innovation, interdisciplinarity and problem solving. This means that we aim to actively contribute to the curatorial field and for our work to be in dialog with our national peers.
Tell me more about the gallery programming.
We present about four to eight exhibitions annually, often touring our exhibits to other institutions internationally. We also host the annual Carnegie Mellon MFA and Senior Art exhibitions in the spring, which are organized by the School of Art.
We program various lectures, symposia, workshops, screenings, and other events throughout the year, and recently we have collaborated with the STUDIO for Creative Inquiry on a series of residencies for artists, writers and our Andy Warhol Foundation Curatorial Research Fellow, Andrea Grover. Andrea will be guest curating our winter exhibition, "Intimate Science."
Often we look for partners across campus for related programming to our exhibitions.
How are you and the Miller Gallery involved in this year's biennial?
Each of the five partner institutions will present a distinct exhibition of work by artists connected to the Pittsburgh region, reflecting each organization's curatorial focus. I am curating the Miller Gallery's contribution, featuring artists who work collaboratively. This collaborative approach echoes the long labor and union histories of the area, as well as the Biennial's new partnership among local art organizations.
What are some of the Biennial installations that will be in the Miller Gallery?
Our exhibition includes sculpture, printmaking, painting, video, publications and workshops:
subRosa
subRosa, a collective including CMU alumna Hyla Willis of Pittsburgh and Faith Wilding of Providence (a former CMU professor), speculate about how feminism could affect the scientific world, as it has with art and other areas of culture. In their new installation they invoke writers, scientists, experimenters, inventors, designers and processes that could be antecedents of this new way of thinking and working.
Global Cities, Model Worlds

Sarah Ross, Ryan Griffis (Chicago) and Lize Mogel (New York, CMU alumna) will debut an installation that explores the spatial and social impacts of mega events, such as the Olympics and World's Fairs. The host cities of these spectacles seek to transform themselves into "global cities" through planning, architecture and ideology. Locally, these events pave the way for redevelopment projects that can create new public resources such as parks, stadiums, or transportation infrastructure, but often result in displacement of residents or industry, reinforcing existing inequalities.
Justseed

Justseed is a cooperative of printmakers in the U.S., Canada, and Mexico, with members and a distribution center in Pittsburgh (including CMU alumna Mary Tremonte). For the Biennial they built a landscape packed with billboards. Instead of peddling products, the handmade billboards advocate for borderless nations and immigrant rights.
Self-Reliance Library

Temporary Services, composed of CMU alumnus Marc Fischer in Chicago, Salem Collo-Julin in Philadelphia, and Brett Bloom in Copenhagen, present the "Self-Reliance Library," a collection of recently published and out-of-print books and reference materials that the artists have found inspiring and hope will "provoke the reader, solve creative problems, or suggest imaginative directions for a range of creative practices." Topics represented in the library include everyday repair solutions, designs for alternate realities, survivalism, self-publishing, and skill-sharing.
Transformazium

The fifth installation, by Transformazium, comprised of Ruthie Stringer, Dana Bishop-Root, Leslie Stem and Caledonia Curry, will be an evolving installation with bricks from a condemned building they deconstructed near their home in North Braddock, a suburb of Pittsburgh. During the course of the exhibition, collective members and gallery visitors will clean the bricks, visibly transforming waste to useable resources and underlining the economic viability and environmental sustainability of deconstruction, or "green demolition." In neighborhoods that face high levels of property abandonment as well as persistent under-employment, deconstruction "makes room for the possibility to discover wealth in places of blight and energy in places of stagnation."
If anyone would like a class or group tour of the gallery, just email us miller-gallery@andrew.cmu.edu.
How has the Miller Gallery evolved?
Because the gallery is based within a university, we've selected programming that touches upon many different subjects. In the last few years our programming has explored: Urban planning, architecture, science, technology, environmental studies, cultural studies, popular culture, performance, social justice, print design, geography, economics, labor, fan culture and sports such as last year's blockbuster "Whatever It Takes: Steelers Fan Collections, Rituals, and Obsessions."
We've increased our collaborations with departments across campus and organizations nationally to present these exhibitions and public programming. Our exhibitions "Keep It Slick: Infiltrating Capitalism with the Yes Men" and "Your Town, Inc.: Big Box Reuse with Julia Christensen" toured across five states and two countries, from Portland, Ore., to Houston, Texas, to Liverpool, England.
What other types of CMU partnerships is the Miller Gallery planning?
This fall we'll be releasing a publication titled "New Art/Science Affinities," which we're very excited about. It is the result of a "book sprint," an intensive co-authoring process over a short period of time.
Right now we're looking for partners across campus including science and engineering to help us present events related to the Pittsburgh Biennial exhibition and our upcoming winter show, "Intimate Science."
Upcoming Pittsburgh Biennial Events
Oct. 16, Sun. 3pm: Deconstruction Site Tour + Workshop with Transformazium.
Email miller-gallery@andrew.cmu.edu to RSVP and for location in North Braddock, PA. 
Nov. 16, Wed. 5pm: From Waste to Reuse: Dialogue + Brick Cleaning Workshop with Transformazium. Miller Gallery, 2nd floor, CMU.
Admission to the Miller Gallery is free and open to the public. Hours are noon – 6 p.m., Tuesday – Sunday.
For more information visit http://www.cmu.edu/millergallery/exhibitions/pittsburghbiennial2011.