October 17, 2011
Q&A: ECE Professor Bruce Krogh Directs Efforts in Rwanda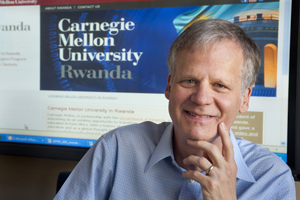 Electrical and Computer Engineering Professor Bruch Krogh is an expert on the theory and application of computer control systems. Soon he'll be an expert on leading a university program abroad.

Krogh, who joined the Carnegie Mellon faculty in 1983, has been named director of Carnegie Mellon in Rwanda, an East African tech-savvy nation that has become one of the most compelling economic development stories in the world. Rwanda has doubled the size of its economy in the past nine years, and has become the technology hub for the entire East African region, which includes Kenya, Tanzania, Burundi and Uganda.

CMU will be the first U.S. research university to offer graduate engineering degree programs there.

"Higher education is a key to success in the global economy," said President Jared L. Cohon. "We are pleased to bring our expertise in mounting international programs and our culture of innovation to Rwanda and to contribute to the country's emergence as a regional technology hub."

Rwandan Minister of Education Pierre Damien Habumuremyi said the Rwandan government selected CMU because its academic and research reputation fit with the country's vision of becoming an information and communications technology-led economy.

"CMU is completely in line with our goal of training a critical mass of IT professionals with an innovative and entrepreneurship mind," Habumuremyi said.

With preparations under way, the Piper caught up with Krogh to talk about the program and some of the plans moving forward.
Can you tell us some of the activities that are happening in Rwanda now to prepare for the first group of master's degree students in fall 2012?
Things are moving ahead on several fronts. We are working with the Rwanda Development Board (RDB) and the Ministry of Infrastructure on the design and renovation of the location we will be using until the new campus is built. We also are working with RDB and the National Data Center, which shares the building we will be in, to acquire and install the networking and computing equipment we will be using. The computing infrastructure we will be using is being developed on campus.
New faculty for CMU in Rwanda are being recruited and are coming to Pittsburgh to be initiated as CMU faculty. We will begin receiving and reviewing applications. There are many details being worked out.
How many students do you hope to have for the first class? Will you be recruiting mostly at universities in Rwanda? Are there many universities there?
We are shooting for 40 students for the first class in August 2012. Students from anywhere are welcome to apply, but the intention is to accept students primarily from Rwanda and East Africa in general.
There are several universities in Rwanda, but the two primary universities we expect to recruit from are the National Institute of Science and Technology and the National University of Rwanda.
Will the academic program in Rwanda be the same as the one offered here in Pittsburgh?
We will be offering initially a Master of Science in Information Technology (MSIT). This program is similar to the MSIT degrees offered by several other CMU departments and schools, but it is structured to fit the particular needs of East Africa. Some courses will be identical to existing courses, and some courses will be created especially for CMU in Rwanda.
Who will be teaching and where will the classes be held initially?
Classes will be taught by CMU in Rwanda faculty in Kigali. Our initial location is in a building called Telecom House.
As I mentioned earlier, new faculty for CMU in Rwanda are being recruited and are coming to Pittsburgh to be initiated as CMU faculty. We are beginning to receive and review applications.  
Will students in Rwanda spend any time in Pittsburgh, and will Pittsburgh students have the opportunity to study in Rwanda?
Studying in Pittsburgh is not a standard part of the CMU in Rwanda program, but we do anticipate that a few selected students will come to the U.S. for a semester or for a summer internship.
Students from Pittsburgh (or any other CMU location) would be welcome to take classes in Kigali, provided we have the capacity to include them.
Are there plans for CMU to have a building of its own in Kigali, or a "campus" per se?
Yes. With funding from the African Development Bank, the Government of Rwanda is building a new campus for the Center of Excellence in Information and Communication Technology (ICT). CMU in Rwanda is part of this center and will be located at this campus. We will move to the new site in two years.
Information about this campus can be found at
www.afdb.org/en/projects-and-operations/project-portfolio/project/p-z1-iad-006/
Will you be seeking support and administrative staff from CMU in Pittsburgh to help establish the program there?
The administration of CMU in Rwanda will be based in Kigali. We plan to hire local Rwandans for most of the administrative positions. Of course, the CMU-R staff will work closely with the administrative staff in Pittsburgh in all areas.
Will other master's degree programs be added in the future? If so, what will they be and how soon might they be offered?
We plan to add a Master of Science in Electrical and Computer Engineering in the second or third year.
Pictured above, Bruce Krogh says faculty members for the program in Rwanda are being recruited and will come to Pittsburgh for initiation. He said he plans to hire local Rwandans for administrative positions.