October 06, 2011
Lester Lave's Legacy To Live On Through Professorship and Fellowship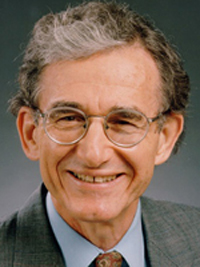 The legacy of visionary researcher Lester B. Lave will be honored by the establishment of a professorship in economics, engineering and public policy, and a fellowship for doctorial studies on innovative areas in economics, public policy and engineering at Carnegie Mellon. The professorship, which will have a joint appointment between the Tepper School of Business and the Department of Engineering and Public Policy, and the fellowship were announced during a memorial service this past Saturday, Oct. 1.
"We acknowledge with deep gratitude the generous commitment from Lester and Judith Lave to establish separate endowed funds for the Lester and Judith Lave Professorship in Economics, Engineering and Public Policy, and the Lester and Judith Lave Fellowship in Economics, Engineering and Public Policy," said CMU Provost and Executive Vice President Mark S. Kamlet. "This is a wonderful way to pay tribute to a remarkable professor and university icon."
Lave, one of the nation's leading environmental economists, died May 9, 2011, at his home after a four-month struggle with cancer. He was 71. His widow, Judith, is a professor of health economics and former chair of the Department of Health Policy and Management at the University of Pittsburgh.
In recent years, Lave devoted much of his attention to two problems: green design and the improvement of electricity systems. With colleagues Chris Hendrickson, H. Scott Matthews and Mike Griffin, he helped to build an economy-wide approach to life cycle analysis. And with colleague M. Granger Morgan, he founded the university's Electricity Industry Center, and worked extensively on problems in that industry with Alex Farrell, Marija Ilic, Jay Apt and others.
Read more: http://www.cmu.edu/news/stories/archives/2011/september/sept29_lesterlavelegacy.htm.