October 19, 2011
QTEL CEO Leads Off "Making the Connection" Lecture Series in Qatar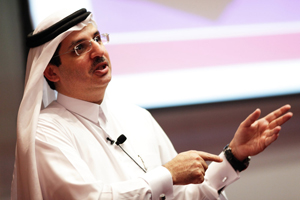 A telecommunications executive recently told students to go after their passions.
Qtel Group CEO
Nasser Marafih
shared with students opportunities at his company and some of the critical skills they would need to succeed in business during this year's first "Making the Connections" lecture at Carnegie Mellon in Qatar on Tuesday, Oct. 18.
The series is part of a broader program organized by Carnegie Mellon's Office of Professional Development that aims to build partnerships between the university and businesses.
"It is important for Carnegie Mellon University to ensure our students are exposed to a realistic picture of professional life after college," said Khadra Dualeh, director of the Office of Professional Development. "We invite corporate leaders to educate and enlighten our students by helping them understand the decisions they make about courses and internships, and the impact it will have on their career development."
"Our goal is to expose students to successful, visionary role models, and we sincerely believe they could learn a great deal from our partners in industry," Dualeh said.
The next lecture, "Technology-Enablers of the Arab Spring," will be Sunday, Oct. 23, featuring Yacine Messaoui, manager of IT and digital media at Al Jazeera Network.