October 17, 2011
New HR Chief
Kenney Aims To Balance Customer Needs With Team Strengths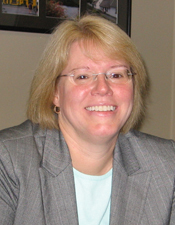 Dianne Kenney has a penchant for taking good things and making them better.
The new associate vice president for Human Resources (HR) and chief HR officer says her success stems from seeing the big picture, building solid relationships and teamwork.
"It's kind of become my niche, to re-align and strengthen organizations," she said. "I've found success helping people learn to operate as a team in a way that's consistent with the organization's mission."
Kenney, who succeeded Barbara Smith as CMU's chief HR officer this past July 1, aims to build upon Smith's successful 22-year tenure by leveraging her team's core strengths - its dedication to customer service and expertise in specific HR disciplines.
"As a group, we are taking this time of leadership change as an opportunity to assess both strengths and need areas, and then develop a service model that draws more collectively on our customer service culture, systems knowledge and subject matter expertise. We're trying to understand what expertise our customers need most and then set up cross-functional work teams," Kenney said.
Kenney is not the only one new to her role in HR. She has four new members on her leadership team of eight, and says it's a great opportunity to learn, work and build together.
She said the first priority for her group was to define a departmental mission (see above) that will support the university mission and guide the work of each HR unit.
The HR units, which comprise about 40 staff members, include Benefits and Compensation, Learning and Development, Diversity and Equal Opportunity Services, HR Services, International HR, HR Compliance and Contracts, Recruiting and Staffing, and HR IT/Operations.
Recruiting and Staffing, formerly part of HR Services, became its own unit this past July in response to heavy demand.
Kenney said Recruiting and Staffing helps academic and administrative departments with a full spectrum of hiring support services, including posting the jobs in places that garner a diverse talent pool. Currently the unit has a director and a recruiter, but she expects that area to grow.
As CMU expands globally, another area Kenney anticipates growing is International HR. Kenney said one member of her leadership team is devoted to learning the diverse international labor and employment laws around the world.
"We need to learn how we can compensate faculty and staff in ways that do not disrupt the local labor market, what kind of benefits we can offer and answers to many other employment-related questions," she said.
While Kenney is busy molding and growing her team, several important initiatives have begun, most notably work regarding a new HR information system. She says the system, which she hopes will be up and running by 2014, will eliminate manual processes, and provide flexible reporting and analysis capabilities.
Kenney said she also is in discussions with Staff Council leadership regarding opportunities to partner on university community service projects and orientation programs for new employees.
While "there's a lot to be done," Kenney is taking the time to meet individual customers from across the university.
"You want to preserve the good that's there, but also make sure that five years from now you're able to be cutting-edge, being able to serve and support your customers proactively and be a good partner," Kenney said.
The HR Mission
CMU HR promotes the university's mission of creating and disseminating knowledge through research, creative inquiry, teaching and learning by providing high-quality HR services and programs that:
Help attract, develop and retain a diverse, world-class workforce;
Offer proactive and innovative support to faculty and staff; and
Ensure policies are developed, disseminated, and applied in a manner consistent with legal and regulatory requirements.
The Kenney File
Bachelor's degree, Virginia Commonwealth University
MBA, Suffolk University
Law degree, Vermont Law School
Practiced municipal and education law in Vermont
HR Director for City of Burlington, Vt.
HR/legal consultant for numerous public and private employers
Joined CMU as Assistant Vice President for Total Compensation in May 2010 from Dartmouth College, where she was Director of Benefits.