October 17, 2011
And the Winners Are...
Six Staff Members Earn Andy Awards for Exemplary Efforts
The Andy Awards, CMU's version of the Oscars and Tonys, recognize Carnegie Mellon staff members in six categories for their exceptional work performance, commitment and extraordinary contributions that greatly impact the university community.
The 17th annual awards were presented during an Oct. 7 ceremony hosted by President Jared L. Cohon and Provost Mark S. Kamlet before a large crowd in McConomy Auditorium. More than 500 staff members received service certificates for 5, 10, 15, 20, 25, 30, 35, 40 and 45 years of service. Thirty employees were recognized for their 30-plus years at the university.
Steve Audia—Innovation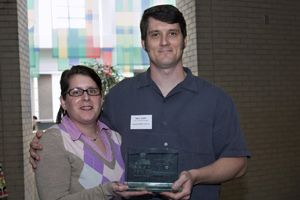 Steve Audia, technical manager and coordinator for the Entertainment Technology Center (ETC), was recognized for his highly inventive solutions and his numerous and diverse accomplishments and contributions.
"In support of faculty, staff and students here at ETC, Steve is an inventor, systems integrator, IT manager, researcher, contract negotiator, tinkerer, evangelist, hardware designer, strategist, and detail-oriented and once-a-year teacher, because he just loves it," wrote Mk Haley, associate executive producer and a faculty member in the ETC, in her nominating letter.
Supporting letters from ETC Executive Producer Don Marinelli and ETC Program Director Drew Davidson further enumerate Audia's resourcefulness and contributions.
This past year alone, Audia has built and deployed a "renderfarm" for students; negotiated a software license down by 98 percent by getting the provider excited about what students would do with the technology; helped design and build an interactive spacebridge as part of the portal into the department; created clever solutions to deal with chronic power dips and losses that minimize equipment damage and automated restarts; and has built and distributed a file management system that allows the entire department to access project files, archives and class materials all in one place.
Marinelli added that when considering the exhaustive list of Audia's work, it is important to note that he not only contributes to the Pittsburgh facility, but also to facilities in the Silicon Valley and Osaka, Japan.
Renee Camerlengo — Outstanding Commitment to Students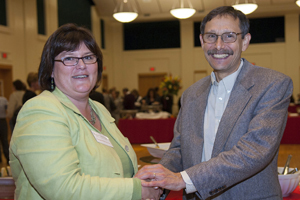 Renee Carmerlengo, assistant dean of Student Affairs and director of Special Projects, was nominated by Randy S. Weinberg, teaching professor of information systems. Weinberg praised
Camerlengo for being a consistent source of reliable support for students, who through encouragement, engagement, responsiveness and advising has helped students make important academic and personal decisions.
"My most memorable experience with Renee occurred upon the unexpected death of an IS student in 2009. Renee's sensitive and compassionate interactions with the family, the student's friends and classmates and his instructors (including myself) were simply touched beyond words," Weinberg said in his nomination letter. "She arranged immediate after-hours support sessions for the student's classmates, arranged student transportation to and from the final service in Ohio, and arranged for a lovely memorial program on campus.... I was grateful that Renee attended our diploma ceremony in 2010, at which time we presented the family with a posthumous diploma in the student's name."
In a supporting letter, Gina Casalengo, dean of Student Affairs, wrote that Camerlengo is "a passionate advocate for students no matter their experience at Carnegie Mellon. She takes the time and makes the effort to build relationships with students to ensure she is positioned to best support students during their four years at the university, while recognizing that the work she does with students during their tenure at CMU translates to an impact that extends well into their lives as alumni of the institution."
Stanley Krowitz — Outstanding Community Contributions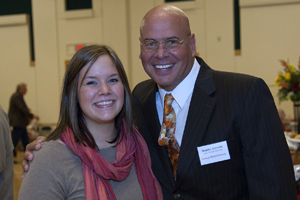 Stanley Krowitz, University Center administrator, was nominated for his efforts in ensuring that all University Center events occur seamlessly and without a hitch, all with an enduring smile.
Emily Rathbone, events associate for Alumni Relations, nominated Krowitz on behalf of the teams in Alumni Relations and University Events.
"He never sweats under pressure, is quick to help no matter how small or large the take is and does it all with a smile on his face.... If it weren't for him, our events wouldn't be as great as they are. Stanley is a very humble person and deserves to be recognized for his outstanding work," Rathbone wrote.
According to Monica Galmarini, associate director of Conference and Events Services, Krowitz' heart is definitely in his work.
"He goes above and beyond every day; working behind the scenes making sure that the University Center runs smoothly, always glad to do whatever is asked of him. He will even offer to help you when it isn't necessarily his responsibility or in his job description," Galmarini said.
John Lanyon — Outstanding University Citizenship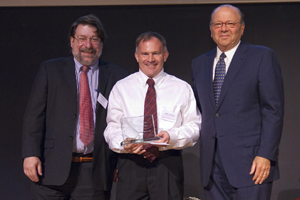 Peer Tutor Coordinator John Lanyon was nominated by Linda Hooper, director of Academic Development, for setting new records in the walk-in tutoring program and for his work to initiate the Health Care Benefits Card as chair of Staff Council's Benefits Committee.
Janet Peters, adviser for undergraduate and professional master's degree students in electrical and computer engineering, wrote in a supporting letter that as chair of the Benefits Committee, "John has been a tireless advocate for the health and well-being of the staff community. His never-ending energy and enthusiasm helped make the meetings a pleasure to attend, while his organization and zeal helped the committee to keep on task and accomplish as much as possible."
In another supporting letter, Susan Ambrose, associate provost for education, wrote that Lanyon embodies the spirit of teamwork and dedication. In the past year, Lanyon has helped Peer Tutoring to increase its walk-in tutoring by 11 percent, overall standing tutoring appointments by 12 percent, and appointments by 15 percent. Under Lanyon, Peer Tutoring has supported 124 courses in 25 different academic departments.
"His workday often begins before 7 a.m. and goes until 11 p.m.," Ambrose added.
Madelyn Miller — Outstanding Culture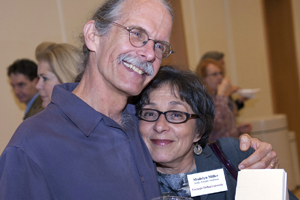 Madelyn Miller, director of Environmental Health & Safety (EH&S), was nominated by EH&S Assistant Director Mark Banister for her commitment to campus diversity, professional development, supporting staff's work/life balance, and for creating a positive and supportive work environment.
"Prior to Madelyn's leadership, our department had considerable numbers of conflicts and problems. Staff turnover was significant and troublesome. These problems have long since been resolved under Madelyn. Satisfaction surveys of our staff show this," Banister wrote. "Also, satisfaction numbers of our clients in recent surveys have indicated our success in meeting the needs of our campus, through a better-functioning team."
"Madelyn is able to bring a diverse department together in a way that enables collaboration and mutual respect regardless of what our backgrounds or personal beliefs are," wrote EH&S Systems Analyst Ahren Hollis in a supporting letter. "It was with her support that I was able to transition genders while on the job in a seamless and supportive manner."
In a supporting letter, Lola Mason, director of Organizational Development, also praised Miller for her work in rebuilding relationships within her department by creating an inclusive environment. Mason said that as a manager, Miller's strengths-based approach allows her to match the right person to the right task, something that few managers accurately accomplish.
Amy Wells — Outstanding Dedication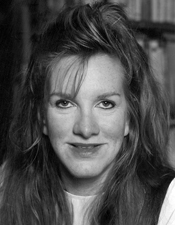 Amy Wells, administrative coordinator for the Department of History, is the first Andy Award winner from the History Department since 1985. Joe W. Trotter, head of the History Department, nominated Wells and called her efforts outstanding, praising her for going above and beyond the call of duty.
"Amy is truly the unsung treasure of the History Department's undergraduate program," said Laurie Eisenberg, teaching professor of history, in a supporting letter. "Two copiers can be crashing, the third on fire, the printer smoking, three students waiting to see her with life-or-death requests, and faculty popping in with just a couple of quick questions to which they need immediate answers, and Amy glides calmly forward, multitasking to meet everyone's needs and exuding a steady patience.... There are three things the history department counts on each and every workday: the sun will rise and set, and Amy will be in her cubicle."
Scott A. Sandage, director of Undergraduate Studies and associate history professor, further supported Wells' dedication. According to Sandage, the full extent of his supervision of Wells is to tell her, "Go home!" and "That can wait," although usually in vain.
"[Amy is] usually the first to arrive in the morning, almost always the last to go home at night - even though she is a loving and attentive mom with children and a husband at home," wrote Sandage in his supporting letter.