November 03, 2011
18th Annual Food Drive Ends Nov. 11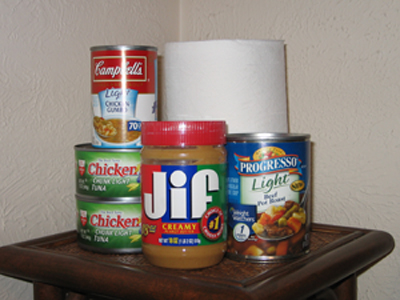 It's time to pitch in and help feed the hungry.  
Sponsored by Staff Council for the 18th consecutive year,
this fall's Food Drive began Monday, Oct. 31 and will run through Friday, Nov. 11.
All food and monetary donations benefit the Greater Pittsburgh Community Food Bank, a non-profit organization that collects, stores and distributes food and household products to nearly 350 charitable agencies in southwestern Pennsylvania.
Drop boxes and barrels for donations are located throughout campus buildings. All non-perishable items are accepted, however peanut butter, cans of tuna fish, chicken in a can, canned soup, canned vegetables, food items in a pop-top can or in microwavable containers, pasta, tomato sauce, cereals, toilet paper, bath and laundry soap, shampoo and detergent are in high demand.
While food and funds are collected for two weeks, two special events highlight the drive,  "One Day, One Can" and "Cans Across the Cut." 
"One Day, One Can" was Wednesday, Nov. 2 during the Benefits & Fitness Fair.
"Cans Across the Cut" is Wednesday, Nov. 9. Individuals and teams are encouraged to participate by bringing their canned-good donations to the Cut, where they will be lined up side-by-side across the lawn. To register your team or department, go to
http://www.cmu.edu/staff-council/committees/food-drive/cans-cut.html
Carole Panno and Katie Lambrou
, co-chairs of Staff Council's Food Drive Committee, report that last year's collection was the most successful as 9,026 pounds of food and $2,107.90 were collected.
Pictured above are some of the items in demand: peanut butter, cans of tuna fish, canned soup and toilet paper.