November 10, 2011
Sunday, Nov. 20, is Randy Pausch Memorial Day in Pittsburgh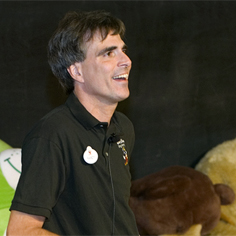 Pittsburgh Mayor Luke Ravenstahl has signed a proclamation declaring Sunday, Nov. 20, Randy Pausch Memorial Day in Pittsburgh.
The proclamation praises the late CMU professor for raising awareness of pancreatic cancer; meeting with members of Congress and the U.S. House of Representatives as an advocate to increase federal funding for pancreatic cancer research; for helping to found the Entertainment Technology Center and the Alice computer programming curriculum; and for being an advocate and enabler for collaboration between technology and the arts.

The proclamation states, "Now therefore be it resolved that I, Luke Ravenstahl wish to honor the memory of Dr. Randy Pausch for his tireless efforts toward the advancement of research in the field of pancreatic cancer. I do hereby declare November 20, 2011, 'Dr. Randy Pausch Memorial Day' here in our most livable City of Pittsburgh."

At 6 p.m. on Nov. 20, the Pittsburgh chapter of the Pancreatic Cancer Action Network will host a candlelight vigil at Gilda's Club at 2816 Smallman Street in the Strip District.